General Studies
Online general studies degrees from accredited universities and schools.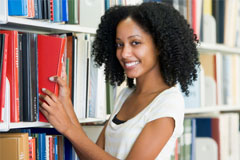 What is a General Studies Degree?
General studies is also sometimes referred to as liberal arts. Rather than focusing on specific professional or occupational education, a general studies or liberal arts program provides instruction in a broad variety of subjects designed explicitly to give the student a well-rounded education. An emphasis on development of knowledge and intellectual skills is intended to provide learners with enlightenment and a strong foundation for daily life as well as for work in a large number of occupations where a degree is preferred or required but not necessarily in a specific discipline.
General Studies Degrees
Associate and bachelor's degrees in general studies are widely available. Some higher level degrees may be offered but, by definition, master's and doctor's degrees are usually more focused on a specific area of specialization. Even bachelor's degrees in general studies often provide some emphasis in distinct areas such as history, literature or mathematics. If you have not yet determined a specific area of learning you want to focus on for life or if you just want a broad education a general studies degree may be right for you.
Job Opportunities with a General Studies Degree
A degree in general studies can prepare individuals for work in an unlimited number of jobs in greatly varying disciplines. Job availability and salary are dependent on the specific job, locality and discipline in which you choose to work.