Graphic Design
Online graphic design degrees from accredited universities and schools.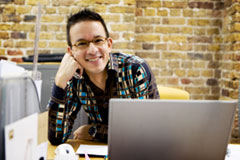 What is Graphic Design?
In order for companies to be competitive and grow they must use various marketing strategies that will help increase their clientele. Signs, logos, displays, brochures, are just a few examples of how these companies try and promote their goods and/or services. Businesses often hire graphic designers to create means that effectively communicate with potential customers using graphics and images to entice them to buy the product or services they are selling.
Graphic designers typically learn a myriad of skills including typography, image development and page layout. Since computers are the primary means of accomplishing these tasks, designers often use desktop publishing software and similar means to achieve their goals.
Degrees in Graphic Design
Degrees in graphic design will give you the needed skills and techniques that will enable you to secure a job in the graphic and visual design profession. You can earn anything from a certificate, associate's, bachelor's, or master's degree entailing emphasis in specialized areas of this field of study. While obtaining a degree in graphic design will prove to be most useful, a strong sense of visual creativity will provide for future success and advancement opportunities.
Job Opportunities in Graphic Design
According to the U.S. Department of Labor, jobs in graphic design will grow as fast as the average profession over the next several years. Entry-level designers earned a median salary of $32,000 in 2005, while staff-level graphic designers earned $42,500. Freelance designers and designers who worked under contract with other companies earned average earnings of $60,000.