Health Care
Online degrees in health care administration, health care management, human services, medical assistant, nursing and public health.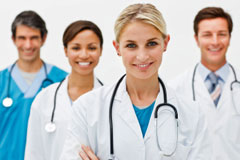 What is a Health Care?
Health care includes any type of enterprise that involves prevention, diagnosis, cure, rehabilitation or any kind of treatment to improve the quality of life for those who are ailing physically or mentally. It can also involve measures to improve the overall health of the general population.
Health care is the largest industry in our country, and as such, employs a vast number of people in a large variety of occupations in hospitals, rehabilitation centers, clinics, physicians' offices, emergency services and in various federal, state and local government health-related programs.
Health Care Degrees
With health care comprising a significant portion of our economy, opportunities for employment in health care abound and, likewise, programs that lead to degrees in health care. A good education in a health-related field can lead to almost limitless opportunities for a satisfying and rewarding career.
The opportunity to receive a higher education in health care is no longer limited to college and university campuses. Health care programs can now be found anywhere there is an internet connection, making them accessible to almost everyone.
A few opportunities in the health care industry can be found requiring only on-the-job training. However, because of the critical nature of health care, most jobs require education leading to a degree or certification. Whether your goal is to be a dental assistant, a school psychologist or a heart surgeon, an online program of education can be a key to your success.
Job Opportunities in Health Care
Among the almost unlimited careers in the health care industry are those in health care administration, health and human services, public health and nursing as well as occupations such as medical assistants, physicians, physical therapists and many more. Perusal of the online schools and universities associated with this website will help you determine the degree or program that will best match your interests and help you meet your goals.
Jobs in the health care arena are expected to grow at a higher than average rate over the next few years. Health care is a wide open industry and earnings vary based on the chosen career, locality, size and type of facility as well as level of responsibility.