Health Care Management
Online health care management degrees from accredited schools and universities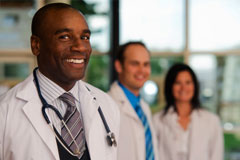 What is a Health Care Management Degree?
Health care is the largest industry in our country, and as such, employs a vast number of people in a large variety of occupations. As the name implies, health care includes any type of work that involves prevention, diagnosis, cure, rehabilitation or any kind of treatment to improve the quality of life for those who are ailing physically or mentally. It can also involve measures to improve the overall health of the general population. Health care managers oversee the day-to-day operation health organizations such as medical and dental offices, nursing homes, and rehabilitation facilities and small hospitals and clinics.
Health Care Management Degrees
With health care comprising a significant portion of our economy, opportunities for health care administration abound and, likewise, programs that lead to degrees in health care administration. The full range of degrees is available, from associate to doctorate. The option you choose must, of course, be based on your own goals, abilities and availability of time and educational funding. The Department of Labor indicates that a master's degree in health services administration, long-term care administration, health sciences, public health, public administration, or business administration is the standard credential for most positions in this field. However, a bachelor's degree is adequate for some entry-level positions in smaller facilities, at the departmental level within health care organizations, and in health information management.
Job Opportunities with a Health Care Management degree.
Jobs in the health care arena are expected to grow at a higher than average rate over the next few years. Health care management is a wide open field and earnings vary based on locality, size and type of facility as well as level of responsibility.