Homeland Security
Online Homeland Security degrees from accredited universities and school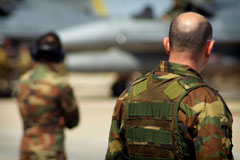 What is Homeland Security?
Homeland security became a well-known name and departmental branch of the United States government after the terrorist attacks of September 11, 2001. Homeland security's primary responsibilities are to identify, prevent, act in response to, and recover from acts of terrorism, respond to natural disasters, and secure airports, harbors, and waterways. If securing the United States against potential overseas threats, terrorist activities, and providing relief to citizens in time of natural disasters is of interest to you then perhaps an online degree in Homeland Security will help guide you on a path to a fulfilling career.
Degrees in Homeland Security
Homeland security entails a variety of professions in %counterterrorism, crisis negotiation, conflict resolution, and disaster % are fitting for those who have military and/or criminal justice experience and/or a four-year bachelor's degree in a criminal justice related field or business. Upper level administrative and directorial positions often require at least a master's degree and an extent of experience.
Job Opportunities in Homeland Security
With the increasing threat of terrorism spanning the globe and the heightened security measures of the U.S. government, more jobs are being created in the criminal justice field in direct relation to homeland security.