How to Choose the Right Master's Degree Program
Choosing the right master's degree program will be critical to succeeding in a field that most interests you. Understanding the rigor of obtaining a master's degree will help prepare you to do well once you've begun your program.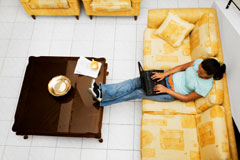 Choosing the right master's degree program entails knowledge to some extent of all aspects of the master's degree.
What is a Master's Degree?
The Master's degree is an academic degree awarded for completing a graduate or postgraduate course of 1-3 years duration or equivalent of 30-36 semester hours. Most can be completed in a calendar year with full time attendance. However, those requiring a thesis or practicum may be longer.
The word master' in the term Master's Degree is derived from the Latin word Magister' which means teacher. Therefore this degree conferred on a person indicates expertise in a specific professional field of study or academic discipline achieved through extensive coursework, externally based research, scholarly paper, thesis and a comprehensive examination.
Master's degrees can be done on-campus or on-line.
Program Types
-The Course work MD program
Entails course work, project work and research
Entry; Bachelor's degree, Bachelor's Honors or UK's Graduate diploma
-The Research MD program
Entails 2/3 research and thesis
Entry; Bachelor's honors, Master's preliminary year, research experience or research based Graduate diploma.
-The Professional MD program
Usually work based project
Entry; extensive professional experience
Reasons to Pursue a Master's Degree
-to obtain employment in a specific field.
-licensing in many professions
-in preparation for doctoral studies.
-to enter and succeed in the international job market
-to improve poor first degree performance
-to facilitate change of career/specialization
-for personal /professional development
Factors to Consider When Choosing a Master's Degree
Career Plans
-How and where do you envision yourself working 5-10 years from now?
-Do you desire to be a leader in your field?
Value of degree
-How well does the course match your career, learning goals and earning potential?
Career flexibility
-Would you like to be a professor, corporate manager or both?
Geographic mobility
-Do you want to remain in your city or do you dream of working in bigger cities and companies?
Simply

INTEREST

in specializations
-Have you always dreamed of a particular job or have ideas to implement new
strategies in a certain field?
Financial resources/aids
-Do you require scholarships or loans?
-Can you pay for your studies over a specified time period?
-Whatever your situation, research universities or on-line programs that will
facilitate/aid you.
-Explore every avenue/organization that will assist with finances and these may be affiliated with particular programs e.g. in the US /

NYC

Teachers for Tomorrow program gives a refund of yearly tuition to high achieving student teachers.
Financial goals
-How much money do you hope to earn to sustain your projected
needs in the future?
-Will your current job or even a promotion fulfill this?
-Would a master's enhance your chances of achieving this goal?
Distance Learning Opportunities /Online/Time availability
-Can you attend full/part time university classes or is it more convenient to study from home due to family responsibilities?
Admission Requirements
-Bachelor's degree
-

GPA

(Grade point average) usually of 3.0-4.0
-

GRE

(Graduate record examination) scores
-Years of work experience
-Letters of Recommendation from employers
-Statement of Educational and Professional Objectives
-Personal interview may be required
-Foreign students to US and Canada may require

TOEFL


(Test of English as Foreign language)
-Note that specific requirements differ with course and
institution
Resources to Help You Make a Decision.
Read all materials available to you about the program.
Review program website; this is particularly helpful since this gives information on
-goals and objectives
-curriculum
-course schedule
-application deadlines
-admission requirements and procedures
Talk to family members, students, work colleagues and alumni (previous graduates); even consider your employer/boss.
Find out about your strengths and abilities in a particular field and recommendations of programs since these persons may have experience with a master's program.
Examples of Master Degrees are
LLM

Master of Laws
MA Master of Arts
MArch Master of Architecture

MBA

Master of Business Administration
MEd Master of Education
MEng – Master of Engineering

MFA

Master of Fine Art
MLitt Master of Letters
MMus Master of Music
MPharm Master of Pharmacy
MPhil Master of Philosophy
MRes Master of Research
MSc Master of Science
MSt Master of Studies
Careful consideration and execution of the above factors will position you to make a comfortable and wise decision concerning the right online Masters Degree Program.
By Launa Freeman, a writer at Helium.com