Human Resources
Online human resources degrees from accredited universities and schools.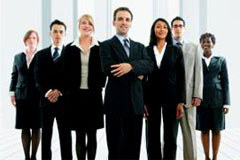 What is Human Resources?
If you enjoy working with people, have good communication and listening skills, are proficient at solving problems and disputes, and innovative then perhaps an online degree in human resources will guide you to a fulfilling career choice. Human Resources is most often referred to as the department within a company in charge of finding, interviewing, recruiting, and training job applicants, overseeing employee-benefit programs, resolving internal labor problems, and implementing new approaches in staffing, training, and communication with employees.
Human Resources Degrees
With the importance of knowing a company's inner workings, many employers require at least a four-year bachelor's degree program in some sort of human resources administration, industrial/labor relations, or liberal arts field. Managerial and specialized labor positions require prior work experience and/or a master's degree. Responsibilities for managers and administrators can include recovery and succession planning, implementing executive compensation, actuarial calculation, human capital development and organization and more. The more training, education, and experience you receive the greater opportunity for job placement and career advancement.
Job Opportunities in Human Resources
Due to the many job openings in human resources as a result of economic growth and the need to replace workers who have transferred to other occupations or retired, employment in human resources is expected to rise faster than the national average for most other occupations. According to the U.S. Department of Labor, human resources related jobs will increase upwards of 26 percent over the next seven years. Opportunities enveloped in this field include human resources directors/managers, employment recruiters, compensation and benefits administrators, labor relations managers and more. Median earnings for entry-level benefit administrators range from $33,000 to $45,000.