Human Services
Online human services degrees from accredited universities and schools.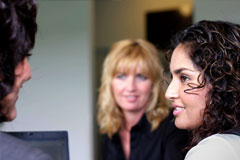 What is Human Services?
Services provided to individuals and families within a community are often categorized as human services. Human services efforts are often sponsored by communities and government agencies with the goal of improving the well-being and quality of life for their respective citizens. Human services professionals can be responsible for programs such as welfare, food stamp, adoption, economic assistance and adult day care, for just a few examples. They may provide such services as counseling, patient advocacy and case management for those needing but unable to acquire such assistance on their own.
Human Services Degrees
Bachelor's, Master's and Doctor's degrees are available in areas such as general counseling, marital counseling, human services management, social services and behavioral science. Human services majors will generally concentrate their studies in subject areas such as counseling, social work, psychology and non-profit business management. If you have a compassionate spirit and a desire to serve your fellow beings, a career in human services could be very rewarding for you.
Job Opportunities with a Human Services degree.
The number of human services related jobs is expected to grow much faster than the average for all occupations over the next few years. The U.S. Department of Labor says, "Job opportunities for social and human service assistants are expected to be excellent, particularly for applicants with appropriate postsecondary education. There will be more competition for jobs in urban areas than in rural areas, but qualified applicants should have little difficulty finding employment. Faced with rapid growth in the demand for social and human services many employers increasingly rely on social and human service assistants to undertake greater responsibility for delivering services to clients."