Information Systems
Online information systems degrees from accredited universities and schools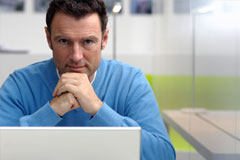 What is Information Systems?
If you are on the cutting edge of new computer technology, have good leadership skills, and are able to solve problems quickly then perhaps an online degree in information systems will guide you down a path to a fulfilling career. Information systems refer to the technology used in gathering, processing, accessing, and storing computerized data and information. Information systems technicians' plan, direct, and coordinate computer-related activities, such as hardware and software installation, programming design, network upkeep and maintenance, and other associated duties in businesses and organizations.
Degrees in Information Systems
Information systems related professions generally require at least a four-year bachelor's degree in a related field of study although most employers prefer a master's degree or higher, especially for managerial positions. Advanced degrees coupled with training and experience is essential in staying up to date in this field and will prove to be very valuable in seeking employment. If fact, continuing education and training will play a vital role in this profession even after you have landed a job. Whether you are seeking to become a systems analyst or information systems manager there is an online degree program available to help you get a jumpstart on your career.
Job Opportunities in Information Systems
According to the U.S. Department of Labor, information systems related jobs will grow faster than the national average for most other professions over the next several years. Advancement in technology is creating more computer-related jobs resulting in a demand for information systems managers to supervise the increase in workers. According to Robert Half International, average starting salaries in 2005 for high-level information technology managers ranged from $80,250 to $112,250. Average annual earnings in 2005 for those with an MBA, an undergraduate degree, or 1 year or less of experience ranged from $52,300 to $56,909.