Information Technology
Online information technology degrees from accredited universities and schools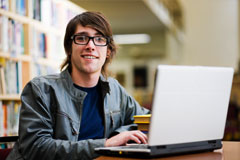 What is Information Technology?
If you are proficient at fixing and troubleshooting computers including hardware and software glitches then perhaps an online degree in information technology (IT) will help guide you down a path to a fulfilling career. Information technology refers to the development, implementation, and/or support of information systems, mainly that of software applications and hardware. This is accomplished through the electronic means of processing, transmitting, receiving, and storing information including images, audio, video, and data.
Degrees in Information Technology
Most employers seeking information technology specialists require at least a four-year bachelor's degree in a computer science related field of study. Since certification, adequate training, and continuing education are an important part of keeping up with the advancement in technology, pursuing a degree is just the first step. All of these programs together can help you become an information technology expert, someone who specializes in setting up computer networks, troubleshoots computer problems users may have, installs new hardware and software, as well as maintains network security measures. Programs offered for information technology managers teach techniques to improve managerial skills in developing and implementing information planning strategies within businesses and organizations.
Job Opportunities in Information Technology
As with other computer and technology related professions, information technology jobs will be on the rise over the next several years according to the U.S. Department of Labor. With more business being conducted over the internet security threats will continue to increase producing the means to hire more qualified information technology specialists and managers to help thwart these risks. Annual salary earnings in this field in 2005 ranged from $52,000 upward to $93,000 with potential earning capability of six-digit salaries for managers and directors.