Interior Design
Online interior design degrees from accredited universities and schools.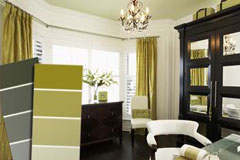 What is Interior Design?
According to the strictest definition, interior design involves the layout of the interior of buildings and residences with a goal of providing the optimum layout for safety, accessibility and overall utility in the design. Interior design may also be defined as the art of decorating the interior of buildings to make them attractive and provide maximum comfort and functionality. This latter definition is more often categorized as interior decoration. Schools offer a variety of degrees in both areas.
Interior Design Degrees
Study in this area will usually include drafting, computer-aided design and spatial planning. An interior designer may be involved in analyzing clients' needs and objectives, developing plans and other documents, preparing cost proposals, arranging for and overseeing work of contractors and subcontractors and other work as agreed upon with the client. A full range of degrees is offered in interior design beginning with associate.
Job Opportunities in Interior Design
Information provided by the U.S. Department of Labor indicates that keen competition is expected for jobs in interior design because many talented individuals are attracted to careers as interior designers. Individuals with little or no formal training in interior design, as well as those lacking creativity and perseverance, will find it very difficult to establish and maintain a career in this occupation. Jobs in interior design will grow at about the same rate as other professions over the next few years. Median annual earnings for interior designers were $40,670 in May 2004.