Is a Degree in Criminal Justice Right for You?
There are vast opportunities for career placement and advancement in the criminal justice field. Understanding your passions and desires in relation to upholding the law and preserving justice will help you decide if this is the right path for you.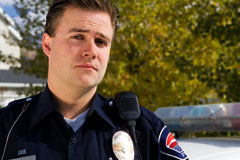 Homeland Security, CSI, Border services, are looking for a few good men and women. These are just a few of the exciting and challenging career opportunities available to you with a degree in criminal justice. If you are already employed in one of these areas, acquiring a specialized degree in the field can serve to significantly enhance your chances of career advancement.
Homeland Security
Homeland security has become a household name in recent years and becoming a professional in this area provides you with not only an enviable career, but a select opportunity to contribute to the protection of your country against terrorist threats. With an increase in the emphasis to secure borders, the demand for border patrol officers will rapidly increase in the coming years. As a criminal justice graduate, you will be equipped for real life crime scene investigation, not just the TV version of which so many of us are in love with.
Criminal Justice Fields & Programs
Criminal justice fields include, but are not limited to:
Criminal Investigations
Homeland Security
Police Officers
Sheriffs
Corrections Officers
Border Patrol Officers

DEA

,

INS

and

FBI
There are numerous colleges offering criminal justice studies. Many courses can be done online. You can work on a diploma, a bachelor's degree, all the way to a master's degree and doctorate – all designed to prepare you for work in the challenging and exciting field of criminal justice. You can also get a feel for the actual practice through field placement and internship offered by most colleges. The possibilities are endless.
Who Should Pursue a Criminal Justice Degree?
Criminal Justice is the system used by governments to enforce laws and administer justice. It is very important, if you are considering a career in this field, that you examine your values and beliefs. Do you have a passion for justice, fairness, a respect for individual rights and a need to contribute to the protection and well being of individuals and the country as a whole? In which areas of the criminal justice field would you feel most gratified – working in a maximum security prison, or protecting the borders? Do you have the discipline and commitment required for a career in this field?
These are just a few of the questions you need to consider prior to deciding if a criminal justice degree is for you. The important thing is to start thinking about it, researching the areas of interest, colleges and your local law enforcement groups. Then, take action! To delay could be criminal.
By Joan Schroeder, a writer at Helium.com