Is a Degree in Information Technology Right for You?
Four things you should know before seeking an online degree in information technology and computers.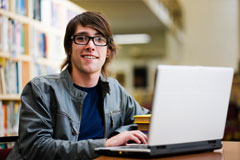 Information Technology Degree: The Right Choice?
In today's society, a degree in information technology is a key that can unlock employment opportunities for some of the fastest growing jobs in the nation.
The information technology industry is booming. Three of the ten fastest growing occupations are IT-related. There will always be a need for computer savvy individuals to develop and maintain technology for the business world. However, sometimes students begin pursuing a degree in information technology and afterwards change their mind. To save you time and money in your degree search, here are a few things for you to consider regarding a degree in information technology.
Make sure you enjoy working with computers. Many people are enticed by the high IT salaries and then discover they don't like working with computers. It's important that IT interests you because you'll start out with a lower salary and more busy work for the first few years until you can get the job you want.
Information technology requires math skills. It's important to have sufficient mathematical skills. This will help when creating algorithms and for understanding programming languages.
Technology is constantly changing. Moore's law states that technology doubles every two years, making it hard for IT workers to take a break and still be on top of their game. Make sure you're constantly learning about new processes and new computer languages to remain competitive.
Learn how to network. Develop and maintain business relationships with anyone who has potential to help you find a future job. Networking is helpful for any profession, but especially in the highly competitive IT world.
If you work well with computers and like to constantly learn and explore the frontiers of technology, information technology is the right choice for you.