J.D.
Online J.D. degrees from accredited universities and schools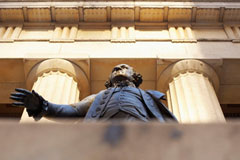 What is a J.D.?
If you've ever been interested in becoming a lawyer or practicing law then perhaps an online J.D. (Juris Doctor) degree will guide you down a path to a fulfilling career. A J.D., also known as a doctor of law, is the degree that provides the necessary training and professional skills for one to legally practice law in the United States. A lawyer is someone who is certified to give legal advice to clients pertaining to legal matters. Not all lawyers are the same and despite what you see on television most lawyers are not conducting trials in the courtroom on a weekly basis.
J.D. Degrees
In order to become a certified and licensed lawyer in the U.S., a four-year bachelor's degree in any field of study must first be obtained in addition to a J.D. degree and the successful passing of the bar exam. Besides a bachelor's degree there are two important factors for admission into a J.D. program; one's undergraduate degree grade point average (GPA) and law school admissions test (LSAT) score. Law schools also look at work experience, extracurricular activities, and letters of recommendation. Once the applicant has received an undergraduate degree, taken the LSAT, applied to law school, and then been accepted by a law school(s), the applicant can expect a rigorous three year (six semesters) program in order to prepare him/her for the bar exam. Upon completion of a J.D. degree and passing the bar exam can one then legally enter the field.
Job Opportunities in the Law Profession
According to the U.S. Department of Labor, employment of lawyers will continue to grow as fast as average for most professions in American over the next several years. There are numerous specializations offered in the legal field. Criminal law, trial law, tax law, corporate law, real estate law, environmental law, and health care law are just a few examples. Depending on one's field of expertise in the law profession one can expect a variance in salary earning capability. The USDL reported $median annual earnings of all lawyers in 2004 to be $94,930$. However, it is not uncommon for corporate lawyers, tax attorneys, and other law professionals to make well into the six and even seven digit figures.