Law Enforcement
Online law enforcement degrees from accredited universities and schools.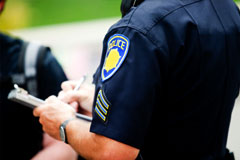 What is Law Enforcement?
Have you ever considered a career in law enforcement? Do performing duties that help ensure the public's safety interest you? Have you ever wanted to be involved in acquiring intelligence to protect the security of your nation? Perhaps becoming a police officer or CIA agent are not quite the avenues you want to pursue, however, the breadth and scope of law enforcement offers an extensive list of professions that can provide you unique opportunities to work in a field that is considered very rewarding. Law enforcement is the governmental department in charge of regulating the affairs of a community by establishing and maintaining order, enforcing the law, and detecting and preventing crime.
Law Enforcement Degrees
Degrees in law enforcement can be found across a variety of different fields from criminal justice administration, security, and analysis to policing and law. Many programs require nothing more than a certification or an associate's degree, such as private security, while more demanding professions, such as a crime scene technicians and game wardens, require a four-year bachelor's degree or even a master's. Whatever your interests, there is a program for you.
Job Opportunities in Law Enforcement
Job opportunities that will result in obtaining a law enforcement degree include police officers, S.W.A.T., bounty hunters, private investigators, forensics specialists, federal law enforcement agents, Homeland Security officials, immigration specialists, Federal Bureau of Investigation (FBI) agents, Central Intelligence Agency (CIA) officers, Drug Enforcement Agency (DEA) officers, and more. Many of these professions will see an increased growth over the next several years as crime levels continue to rise and national security remains a top priority in the United States. Salary earnings are representative of experience, education, and position.