Legal
Online degrees and programs in law and paralegal studies from accredited schools and universities.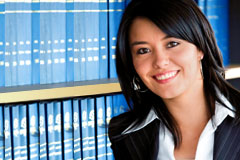 What is Law?
Law can be referred to as the body of rules and principles governing the affairs of a community and enforced by an appointed government authority, legal system, or other authorized entity. The legal system serves as an "interpreter" and "administer" of the law in guiding the rules and regulations deemed necessary to administer justice.
Lawyers (J.D.), judges, paralegals, and other related professionals lead the charge in implementing and practicing law. With the advanced technology and evolving nature of society, the law is continually being scrutinized, reformed, and interpreted. Therefore, the need for qualified individuals to take on these vast responsibilities continues to grow and provide unique career opportunities.
Degrees in Law
The skills and training to become specialized in law and the inner workings of the legal system are extensive. Most careers in the legal profession are intricate and detail-oriented and thus require degrees beyond the conventional four-year bachelor's program. As such, those who are dedicated to learning and becoming experts in the law should expect a rigorous path to becoming such.
The opportunities for an education in law are no longer limited to brick and mortar colleges and universities. Law schools and programs can now be found anywhere there is an Internet connection, making it accessible to just about everyone.
Online degrees in law will give you the aptitude and training that are essential in the daily responsibilities of your desired career path. Whether you are new to the field or looking to advance your current situation, there is a degree program that will help aide you in making a good career choice. To understand what degree or program you should pursue it is important that you research within the field of study that most interests you and select an online school or university based upon proper accreditation and program placement to help you achieve these goals.
Job Opportunities in Law
Careers in law, as opposed to criminal justice, focus primarily on lawyers, paralegals, and judges. Lawyers specialize in any number of areas, such as bankruptcy, corporate, international, or environmental law. Those specializing in corporate law, for example, may represent interest groups, large corporations, or construction firms in their dealings with cities and/or communities and agencies. In essence they represent their clients' interests. Paralegals duties are focused on helping lawyers prepare for closings, hearings, trials, and corporate meetings. Paralegals gather relevant information for cases and ensure that all the facts are considered. Judges are given authority to preside over trials or hearings and listen as attorneys represent their clients. Judges rule on the admissibility of evidence and the methods of conducting testimony, and at times may intervene to help settle disputes between opposing attorneys.
According to the U.S. Department of Labor, employment in these areas will continue to grow at an average to just above average rate for all occupations throughout the next several years. The USDL reported in 2004 that the median annual earnings of all lawyers was $94,930, full-time wage and salary paralegals and legal assistants was $39,130 and judges with median annual earnings of $93,070.