M.A.Ed (Master of Arts in Education)
Online M.A.Ed degrees from accredited universities and schools.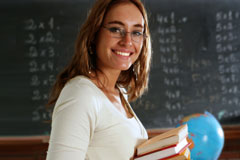 What is the M.A.Ed Degree?
The Master of Arts In Education (M.A.Ed) degree, also designated as Master of Education (MEd) degree, provides educators with an opportunity for advanced learning and preparation in chosen areas of specialization. Examples of such areas of specialization include educational administration, curriculum, special education, guidance counseling and adult education. The significant effort required in achieving a master's degree and the enhanced skill set provided as a result of this achievement qualify one for additional recognition and usually for a substantial increase in earnings capability.
M.A.Ed Degrees
Admission to a master's program usually requires a bachelor's degree in education as well as several years' teaching experience. Most states require a master's degree for educational administrative positions such as principle, assistant principal, and dean. M.A.Ed degree programs are abundant among our affiliated schools and universities and a wide array of specializations is offered. The M.A.Ed degree also provides the appropriate foundation to begin study for the Ed.D (Doctor of Education) degree or possibly a Ph.D (Doctor of Philosophy) degree.
Job Opportunities with an M.A.Ed degree.
Job opportunities for principals and assistant principals as well as college and university administrators are expected to be very favorable over the next few years and are expected to grow as fast as the average for all occupations. The U.S. Department of Labor also indicates that benefits for educational administrators are generally very good. Many get 4 or 5 weeks vacation each year and have generous health and pension packages. Many colleges and universities offer free tuition to employees and their families. Salaries are generally very good but vary depending on the position, location and the level (elementary, high school, college, etc.) of the educational institution where one is employed.