Marketing
Online marketing degrees from accredited universities and schools.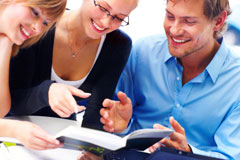 What is Marketing?
If you are an individual who is highly motivated, enjoys working with other people, can communicate ideas clearly, and looking to advance in a profession where the only limits are your own imagination and creativity then perhaps an online degree in Marketing will guide you to a fulfilling career choice.
Marketing often refers to the procedures of a company related with buying and selling a product or service. It can include advertising, selling and delivering products to people. Marketing specialists try to get the attention of target audiences by using slogans, packaging design, media exposure and other methods. The ultimate goal of marketing is to match a company's products and services to the people who need and want them, therefore enabling profitability.
Marketing Degrees
Degrees in marketing are virtually indispensable in the business world today. Understanding how consumers think and feel is imperative in making decisions on what goods and services to produce as well as marketing them. Degrees in advertising, journalism, finance, business administration, public relations, etc. provide the framework necessary to learn the necessary training and skills that help companies promote the goods and services they are selling.
Job Opportunities in Marketing
Marketing related professions are continually on the rise. The U.S. Department of Labor predicts that careers in marketing, advertising, sales and public relations will grow faster than most other professions over the next seven years. According to the National Association of Colleges and Employers survey, starting salaries for marketing majors graduating in 2005 averaged $33,873. Managers in the marketing industry have the potential to earn between $60,000 and $90,000.