Mechanics
Online mechanics degrees from accredited schools and universities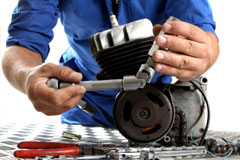 What is Mechanics?
Mechanics can be referred to as the process of building, repairing, or the maintenance of machinery for its intended use and purpose. Mechanics can be classified into several different categories including auto, small engine, aircraft and avionics, diesel service, and industrial.
Online Degrees in Mechanics
The field of mechanics is unique in that it doesn't usually require an advanced college degree. Most employers prefer hands on experience and/or certification that can be acquired from trade technical schools, community colleges, and vocational training programs. Because of the ongoing acceleration in sophistication of mechanics it is necessary for technicians to take part in continuing education and training. ASE (Automotive Service Excellence) has become the standard for certification for automotive technician repair specialists in the United States. ASE focuses on 8 different areas of car repair and service and technicians can choose to specialize in any one of these areas or all 8 to become a master technician.
Job Opportunities in Mechanics
Job opportunities in auto mechanics will continue to be a growing profession, as the automobile industry shows no signs of slowing in the near future. With the advancement in technology and computers in cars the fluctuation in jobs to specialize in those areas will also cause a demand in the industry. Industrial and diesel mechanics offer a variety of opportunities to those interested in this field. Depending on the expertise and specialization of mechanics, earnings are between $12 and $22 an hour while diesel service technicians earn anywhere between $14 and $27 an hour.