Medical Assistant
Online medical assistant degrees from accredited universities and schools.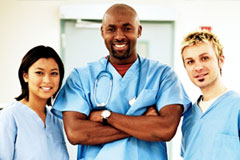 What is a Medical Assistant?
Physicians and dentists generally work in an environment where their services are in demand and providing those services in an efficient and timely manner requires the aid of capable assistants. Medical assistants perform a variety of tasks including answering phones, keeping records, scheduling patients, preparing patients for treatment, arranging medical instruments and materials and assisting while the physician or dentist treats patients.
Most states regulate the duties medical assistants are allowed to perform but many physician assistants perform such duties as preparing laboratory specimens, performing basic lab tests, instructing patients regarding treatment procedures, drawing blood and administering medications as directed by a physician.
Dental assistants often work directly with patients in cleaning teeth, removing sutures, applying temporary crowns and other non-surgical procedures.
Medical Assistant Degrees
Jobs as medical and dental assistants generally require a certificate that can be earned in about a year or an associate degree, which takes about two years. The course of study for this type of work usually includes biology, chemistry, health, and office procedures and practices. Because medical procedures are critical to the health of those being served, doctors must be able rely on assistants to be timely, work well with patients and to be able to quickly understand their duties and perform them efficiently.
Job Opportunities with a Medical Assistant degree or certificate.
Medical assistant jobs for both physician and dental assistants are expected to grow much faster than the average for all occupations over the next few years.
The earnings for both vary, depending on experience, skill level, and location. The U.S. Department of Labor also indicates that the median annual earnings of medical assistants were $24,610 in May 2004. Dental assistants earned a median hourly rate of $13.62. Benefits also vary depending on the particular location and place of employment. The amount of training and experience one has can, of course, make a difference.