Online College Classes
A few things to consider when evaluating online educational opportunities.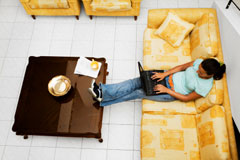 Convenience of Online Learning
Equipped with only a computer and an internet connection, many college students have found that attending class is not nearly the ordeal it used to be. No longer bound by the shackles of location and time, students enrolled in online college classes can attend school from virtually anywhere, at anytime that fits within their busy schedules. With the explosive increase in distance learning courses, it is now possible to get a college degree from a major institution of higher learning without ever having to step foot on the actual campus. Furthermore, online college classes allow students to get their degree without having to sacrifice job, family or social life.
High Availability of Online Schools
There are hundreds of schools now offering internet courses, creating a virtual smorgasbord of educational choice. The vast number of available e-learning classes is enough to overwhelm any prospective student. For anyone searching for a school, the task at hand is to determine which distance learning program provides the very best chance of success. Earning a college degree requires a sizable investment of both time and money, so selecting the best program should not be done hastily. To find a good program it will be necessary to do some research.
Techniques for Researching Schools Online
Perhaps the easiest method of conducting research on distance learning programs is on the internet itself. Many institutions have their own websites that offer information about their programs and contact information for getting directly in touch with a school representative. There are also a large number of third-party websites that provide a list of links to online schools where the student can read up on different programs, and make a request for further information if desired.
When doing your research, some of the questions you need to get answers for include the following:
1. Is the program properly accredited?
2. Do the online degrees offered by the school fit educational goals?
3. How much is tuition?
4. How long will it take to complete the program?
5. What are the computer hardware and software requirements?
6. Are financial aid and scholarships available?
7. Is there job placement assistance after graduation?
Upon getting all questions satisfactorily answered, the choice of whether or not to enroll is up to the individual. It is important to realistically examine your ability to meet the challenges you will face with an online program. The fact is, e-learning is a unique method of learning that may not be the best choice for everyone. However, if you decide to learn online, take the program as seriously as you would a traditional campus-based program. Do your very best to finish all coursework as directed by the school, and you can rest assured you will finish the course with a degree in hand as a reward for all of your efforts.
Jesse Whitehead earned his BSBA degree from an online university in 2005.