Online Education: Best Venue for Stay at Home Moms
The convenience that online education provides makes pursuing a degree doable for stay at home moms.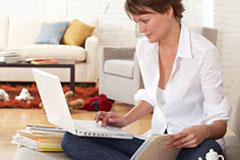 A Personal Recommendation
I took only 2 college courses after high school and decided it was not for me. Now, 8 years later, I have found that online schooling is the best thing I could do. I have already finished my associate's in less than 2 years and have started my bachelor's, all while working and with 2 kids.
The online schools have been extremely helpful, allowing me to take time off for the kids and other situations that arise. I am able to pick right back up where I left off.
The classes work together so it is rare that assignments from both classes are due on one day. Also, the teachers offer help to you personally if you are struggling.
I went through University of Phoenix for my degrees and I have also looked into Devry. My husband is attending Devry and loves it. You are able to start assignments and leave to finish them later and financial aid includes your books in your loans so there really is little out of pocket through the whole program.
Classes are a bit more expensive going on line, but you never have to worry about being tardy, as long as you check into class 3 times a week you are considered a participant. It is awesome and I highly recommend it for any stay at home mom.
By Tonya Pereyra, a writer at Helium.com