Operations Management
Online operations management degrees from accredited schools and universities.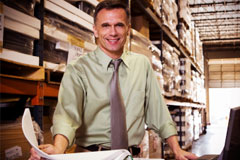 What is Operations Management?
Operations management, basically, is the oversight of specific operation(s) within a company and the assurance that those functions are executed in an efficient and appropriate manner. Operations managers' primary responsibilities are to coordinate the resources among the different departments, perform daily managerial tasks, and create and implement new strategies and plans within the company.
Online Degrees in Operations Management
Management at this level requires pro-active individuals with strong people skills and a proficiency in understanding a company's daily procedures. Most employers require at least a four-year bachelor's degree in some sort of business or management discipline and extensive experience in some type management role. Therefore, a master's degree is the best bet to obtain positions of this caliber since well-executed operations constitute some of the most important aspects of successful companies. Many online schools and universities now offer courses, programs, and degrees in operations management that can help propel you to this fulfilling career.
Job Opportunities in Operations Management
According to the U.S. Department of Labor, job growth for operations managers is only expected to rise roughly 2 percent annually. Operations managers are vital to the success of any company and because there are only a handful of them in each company there is not much room for placement. The most likely scenario to obtain a vocation in this field is experience and education. The earnings for operations managers range from $58,000 upwards to $128,000 annually.