Other Study Areas
Online certificates and degrees in general studies, construction management, aviation, culinary, mechanics and real estate.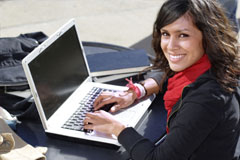 What are Other Study Areas?
Numerous areas of study are available that don't fit under one of the general educational categories. These include degrees and education in general studies, culinary, mechanics, construction, aviation, engineering, and real estate as well as courses required to earn a certificate or training in various additional subject areas.
The advantages of acquiring instruction beyond the standard public education are obvious. Not only does one become better equipped to meet the challenges of life but is also much more prepared to move into an advanced career and receive the associated salaries and benefits.
Other Study Educational Opportunities
Education Requirements in Some Other Study Careers:
Associate and bachelor's degrees in general studies are widely available. Some higher level degrees may be offered in general studies but, by definition, master's and doctor's degrees are usually more focused on a specific area of specialization.
Available culinary degrees include associate, bachelor and post-graduate and focus in areas such as culinary arts, culinary management and catering.
An associate degree in mechanics generally qualifies one to work with heating and air conditioning, small engines, appliances, automobiles and some larger equipment. Higher degrees are often required to work with larger and more sophisticated equipment or a mechanical engineering degree may be appropriate.
Real estate agents are not generally required to posses a degree. However as real estate transactions become more legally complex, many firms are beginning to require college graduation.
Online schools and universities present a convenient way to receive education that will help prepare one to qualify for many types of certificates.
The opportunity to receive a higher education is no longer limited to college and university campuses. Educational programs can now be found anywhere there is an internet connection, making them accessible to almost everyone.
Job Opportunities in Other Study Areas
The availability of job opportunities in general studies, culinary, construction management, aviation, mechanics or other general study areas depends specifically on the chosen career, certificates and degrees attained as well as the locality, size and type of enterprise.