Paralegal
Online paralegal degrees from accredited universities and schools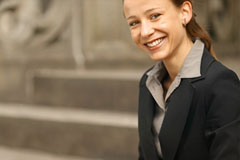 What is a Paralegal?
If you have ever wanted to work within the law profession or with a law firm but don't have the time or resources to pursue a graduate degree in law then perhaps an online degree in paralegal studies will help guide you down a path to a fulfilling career. A paralegal, or legal assistant is someone who works in the legal profession, usually within a law office, who assists a lawyer by performing duties that include researching case studies, analyzing data, managing daily tasks, as well as other jobs associated with the law firm. Since paralegals aren't licensed attorneys they are limited in their scope of responsibility and must be supervised by lawyers within the firm. Many paralegals, however, go on to pursue law degrees ultimately becoming lawyers themselves.
Paralegal Studies Degrees
Since paralegals duties are limited because they are not licensed attorneys, the degrees offered in this field do not require the same time commitments to qualify them for the workforce. As associate's degree in a paralegal program is all that is needed in order to become proficient at the skills needed to enter this profession although a bachelor's or master's degree will provide with you more expertise and the likelihood of higher earning capability. If you already have a college degree in another field of study a paralegal certification program is another common way into entering this profession.
Job Opportunities in Paralegal Studies
According to the U.S. Department of Labor, the employment of paralegals and legal assistants will grower faster than the national average for most profession in America over the next several years. One of the reasons for this is that many private law offices are realizing that paralegals are capable of performing tasks within the firm that lawyers once carried out. The variance in earning potential for paralegals and legal assistants is widespread because training, education, and the type and size of the firm all greatly contribute to how successful a law firm is. The USDL reported average annual earnings of $39,130 for full-time paralegals in larger firms in 2004.