Programming
Online programming degrees from accredited universities and schools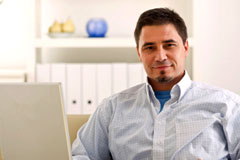 What is Programming?
If you are an analytical thinker, adept at problem solving, detail oriented, and enjoy working with computer programs then perhaps an online degree in computer programming will help guide you down a path to a fulfilling career. Computer programming refers to the detailed written source code that tells computers how to perform their designated functions. These programs tell computers how to identify, access, and process information. Basic programs can be written and coded in a matter of a few hours whereas more complex programs can take a year or longer to program. Computer programmers main responsibilities are to write, test, and maintain the code that make computer programs work properly.
Degrees in Programming
The pathway to becoming a computer programmer is various and extensive. Many employers require at least a four-year bachelor's degree in computer programming related degree although it is not uncommon for some programmers to qualify with a 2-year degree or certificate. In either case, experience proves to be the most important factor for most employers in hiring computer programmers. Programming proficiency and knowledge of program language, such as C++ and Java are important. Degrees in computer science, math, or information systems can all be geared towards becoming a computer programmer. With more demand for higher education and expertise in this field by employers, the importance of related degrees should also rise. In fact, according to the U.S. Department of Labor more than 65% of all computer programmers held at least a bachelor's degree in 2004.
Job Opportunities in Programming
With increasing competition, outsourcing capability, and the technological advances that eliminate some of the human aspect to computer programming in this industry, the USDL predicts that jobs in this area will grow more slowly than the average for most other professions in the U.S. over the next several years. According to Robert Half International, average annual starting salaries in 2005 ranged from $52,500 to $83,250 for programmers and analysts, and from $55,000 to $88,250 for software developers. Average starting salaries for mainframe systems programmers ranged from $50,250 to $67,500 in 2005.