Project Management
Online project management degrees from accredited schools and universities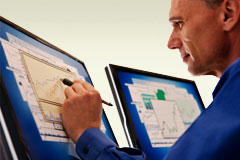 What is Project Management?
Project management is the organization, planning, and coordination of specific projects assigned to employees, departments, or groups within a given company and the oversight to complete the projects accordingly. Project managers are in charge of overseeing efforts from start to beginning to complete projects. Their expertise lies in bringing people together within a company who are best suited to accomplish a project and making sure it is done to meet the needs of the company. If you are a well driven individual who has good communication and people skills and managerial capability then project management may provide you an opportunity for a fulfilling career.
Online Degrees in Project Management
Most employers seek individuals with at least a bachelor's degree for vocations in this field and a master's degree is even more preferable. Degrees in administration, business, communications, or management will be the most advantageous. Prior experience in any supervisory roll will also prove valuable as you learn how to manage and delegate. Degrees and programs in project management are offered at many colleges and universities throughout the country including many online schools and institutions.
Job Opportunities in Project Management
Project managers can be found in various vocational fields including information technology, real estate, construction, design, retail and more. It can be expected that these types of professions will grow at a rate and pay relative to the industries they belong to. For example, a project manager in information technology can expect to earn anywhere from $79,000 upwards to $130,000 annually. Construction project managers can earn between $56,000 and $99,000 a year.