Public Health
Online Public Health degrees from accredited universities and schools.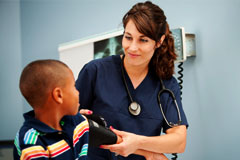 What is Public Health?
Public health is an organized effort to promote and maintain good health among the general population. Rather than focusing on the treating of individuals, public health attempts to prevent disease and improve and preserve the health of an entire community or society. These efforts include education of citizens regarding issues such as the effects of smoking, the importance of vaccination, the value of practicing good hygiene and measures to take in the case of an infectious disease outbreak. Although public health efforts can involve both the prevention and the cure of diseases, prevention is the main focus. Public health is approached from various levels of society, including community, state, federal (U.S. Department of Health & Human Services) and worldwide organizations (World Health Organization).
Public Health Degrees
Course work for a career in public health will often include mathematics, chemistry, biology, physics, communication skills, problem solving, health promotion and disease prevention. Associate degrees, bachelor's degrees and graduate degrees are available in many public health fields including degrees in environmental health, epidemiology, health services administration and occupational health and safety. The path you choose will, of course, depend on your overall goals and availability of time and financial resources. Consider the convenience and value of pursuing an on-line degree through one of our associated universities and schools.
Job Opportunities with a Public Health degree.
Employment in areas related to public health is expected to grow as fast as the average rate for all occupations over the next few years. Salaries in the public health field vary greatly depending on the level of education, the particular area of employment, locality, etc. Entry level salaries in some public health related fields have been about $30,000.
The median salary for medical scientists was $61,320 in 2004, according to the U.S. Department of Labor.