Real Estate
Online real estate degrees from accredited universities and schools.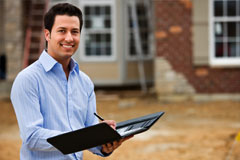 What is Real Estate?
Real estate is defined as property in the form of land and buildings. The real estate industry is involved in deriving revenue from the purchase and sale of land and buildings, either by direct buying and selling or by assisting others to buy and sell. Various types of businesses are included in the industry such as real estate agencies, brokerages, appraisal companies, development companies and property management businesses. Together, these businesses provide a multitude of job opportunities including real estate agents, managers, accountants, appraisers, construction contractors, property managers, etc.
Real Estate Degrees
The education required for a career in real estate depends on the particular type of business and the specific job you choose. Real estate agents are not generally required to posses a degree. However as real estate transactions become more legally complex, many firms are beginning to require college graduation. Many agents and brokers have some college education, which often includes courses in real estate, finance, business administration, statistics, economics, law, and English. All states require real estate agents to be licensed. Many courses are available to help prepare for real estate exams and careers in real estate. Associate, bachelor and post-graduate degrees can provide appropriate education to prepare you for the particular area of real estate you choose to work in.
Job Opportunities with a Real Estate Degree
Employment opportunities for real estate brokers and sales agents are expected grow about as fast as the average for all occupations over the next few years, according to the U.S. Department of Labor. Median annual earnings of salaried real estate sales agents, including commissions, were $35,670 in May 2004. Median annual earnings of salaried real estate brokers, including commission, were $58,720. Commissions are the main source of income for agents and brokers and percentages are based on the type of property, value of the property and the particular parameters agreed upon by the agent and broker. Salaries for others involved in the real estate industry vary greatly depending on the particular type of involvement.