Software Engineering
Online software engineering degrees from accredited universities and schools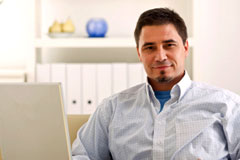 What is Software Engineering?
If computer networking, software and hardware systems, as well as math are all things you are knowledgeable about then perhaps an online degree in software engineering will help guide you down a path to a fulfilling career. Software engineering refers to the application of techniques derived from the computer sciences to design, develop, test, and evaluate software systems that enable computers to perform their designated functions. Software engineers, whether they are involved in the development and design of an operating systems or a computer game, instruct a computer, line by line, how to perform certain and specific tasks. Unlike computer programmers, software engineers develop and implement algorithms as well as detect and resolve programming issues that may arise than actually write the code.
Degrees in Software Engineering
Because of the advanced technical elements associated with software engineering, employers require at least a four-year bachelor's degree in a computer science related field of study coupled with experience in computer systems and technologies. Advanced degrees in mathematics and systems design can also present managerial opportunities for those already in the industry. Continuing education and training are also necessary for engineers to keep up to date with current technology and information.
Job Opportunities in Software Engineering
The U.S. Department of Labor predicts that jobs in software engineering will continue to rise faster than average for most professions in American over the next several years. Reasons for this include the need for businesses and institutions to integrate new technology in order to maintain effective and efficient computer systems as well as the rise in computer networking throughout the world. According to the National Association of Colleges and Employers, starting salaries for graduates in 2005 with a bachelor's degree in computer engineering averaged $52,464 and those with a master's degree averaged $60,354.