Taking an Online Course: What should I know?
Many people who haven't taken an online class wonder what they are like, and what they should know before jumping into one with both feet.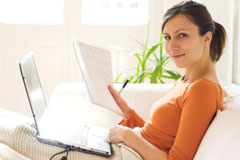 There are students who have taken online courses and been asked to post their thoughts about the advantages and disadvantages about taking an online course, and what they wish they would have known before taking an online course. A summary of the most common comments are listed below.
Flexible Hours: One of the things that students like most about taking an online course is that they are able to do the work whenever they have free time. Some of the students are full-time mothers who do their class work after their children go to bed; some of the students work full-time jobs; and some just like being able to do their coursework from the comfort of their homes whenever they want.
Discipline: While the flexible hours are great, it does come with a little more responsibility. Since you aren't required to be in class on certain days at certain times, students need to be self-motivated, focused, and disciplined; otherwise, the semester can get away from them pretty quickly. If students procrastinate assignments in an online class, it could be too much to try to make up at the end.
Technical Issues: One thing to be aware of when taking an online course is that technical issues may sometimes occur. Some of the more common things that occur are software/system crashes and website downtime. There isn't much you can do when something crashes, other than reboot and/or wait. Downtime, on the other hand, can usually be avoided by proper scheduling. Many schools perform regular maintenance on their websites to make sure that students are getting the latest and greatest in technology and information. When they perform this kind of maintenance, your classes may not be available. Usually this kind of maintenance is done during the wee hours of the morning when there isn't much traffic, so if you keep odd hours, it is something to be aware of and schedule accordingly.

Another technical related issue to be aware of is computer and internet speed. Some online courses require a lot of bandwidth, so if you have slow internet speeds or an older computer, expect some delays. It is ideal to have at least

DSL

internet speed as well as a computer that has been made within the past five years, but it's not necessary.
Interaction: Many students made comments about the type of interaction between their professors and their classmates. They said that it takes some getting used to because you can't get immediate answers to questions you have, since communication is done via email and discussion boards. Also, you aren't able to schedule one-on-one time with the professors. On the positive side, there is more interaction between classmates when it comes to discussions and having a dialog about course material. Many of the students noted that you shouldn't be afraid to ask questions and get involved. That aspect is quite important in order to get the most out of your online course.
Online Doesn't Mean Easy: Many of the students noted that they expected the classes to be easier than classes taken in a traditional setting, but they said that it's not so. Online classes are also challenging and should be approached in the same manner as a class taken on campus. Since the format is different and does take some getting used to, it is suggested that you take a class that is lower level or a class that you are very interested in to get you started.
Overall, the students who responded to these surveys were very positive and said that they will continue to take online courses. They said that the benefits of taking an online course out way any of the negatives (which seemed to be quite minor). If you are thinking about taking an online course, do some research to find out which school offers not only the classes you are looking for, but also the format that would best suit your needs.