Technology Management
Online technology management degrees from accredited universities and schools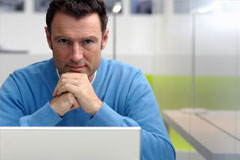 What is Technology Management?
Technology management is the fusion of information technology and management in order to implement the use of technology by a business organization or institution. This is accomplished through managing a collection of systems, infrastructure, and information that resides in them. Technology management specialists keep up to date with the latest information technology principles and techniques and use these tools to maximize competitive advantages within a given company. Areas of management include computer architecture, networking and telecommunication, database management, business and financial management strategies, and more.
Degrees in Technology Management
Most employment opportunities in technology management require a minimum of a four-year bachelor's degree, even more so a master's degree in business administration (MBA) is becoming more the educational standard into entering this profession. For those who have undergraduate degrees in a related information technology field, there exist several programs available to help advance you to a career in technology management. These programs help prepare students receive the technological and management skills needed to succeed in this industry. One can also expect that continuing education and training will be vital in remaining competitive and up to date once your have entered the profession.
Job Opportunities in Technology Management
With the constant surge in technological advances, businesses and other organizations will need to implement proper technological strategies to remain competitive. Therefore, a need for managers with adequate experience and education in information technology will be essential. The immediate and long-term outlook for jobs in this field is substantial.