Understanding Distance Learning
Distance learning opportunities are offered by a number of accredited colleges and universities and come in "synchronous" and "asynchronous" varieties. Understanding the difference can help you choose what is best for your needs.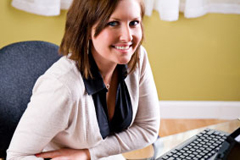 Online degree programs are the perfect solution for many stay at home moms who want to further their education without compromising their family responsibilities.
With many well-known and respected colleges and universities forming their own cutting-edge distance learning programs, all of which utilize the latest in computer and internet technology to deliver the traditional classroom experience to your living room, a quality education is well within reach, even for a busy stay at home mom.
Synchronous Study
Some may prefer what are called "synchronous" college courses, in which the distance learning student proceeds in real time along with a traditional on-campus class, utilizing video conferencing, online discussion forums, live chats, and telephone interviews with the professor to provide a highly interactive experience. The benefits of synchronous course are that the stay at home mom is provided with a semi-rigid structure that may make it easier to immerse oneself in the course, and to keep on schedule with all necessary projects and assignments.
Furthermore, with face-to-face video conferencing and live discussion groups online, there are ample opportunities to ask questions and establish a good working relationship with one's professors and classmates.
Asynchronous Study
Many stay at home moms prefer a course with less rigid scheduling, however. "Asynchronous" courses allow the you to complete projects, assignments and exams at your own pace, working when you choose to work and taking days off whenever necessary. Recommended guidelines may be provided in order to give you some general idea of how fast you should be progressing, but given course time allotments of up to nine months, there's a lot of leeway for a busy mom.
Once you've decided which program suits your needs, the next decision you have to make is in regard to the type of school you'd like to earn your degree from. Does the prestige of the school's name matter to you? Or do you simply need a degree to advance in your job, and would like to do so as inexpensively as possible?
With all the advancements in internet technology and distance learning programs, even the busiest stay at home mom can get the education and training she needs.
Good luck finding the right program for you!
By Alfred Nylund, a writer at Helium.com