What is a Bachelor's Degree?
Bachelor degrees are offered by a number of accredited colleges and universities and come in a variety of different types and programs. Understanding the benefits and differences can help you choose what is best for your educational needs.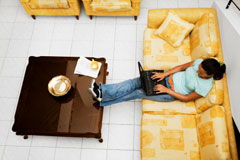 When someone says they have a "college degree" they are commonly referring to a Bachelor's degree. Typically comprising 120-128 credits, the degree is usually completed within a four-year period. However, it may take a shorter or longer time, depending upon the individual student. The name bachelor is derived from the English word bachelor, meaning "young apprentice."
Bachelor's degree programs typically consist of three parts: general education, elective courses, and a particular area of focused study – a "major". General education classes are typically taken during the freshman and sophomore years and consist of courses in English composition, humanities/fine arts, social sciences, natural sciences, and mathematics designed to give the student a solid and broad academic foundation. Elective courses allow students to broaden their academic horizon and explore subjects of interest. Coursework in the student's major are designed to make the student knowledgeable in a particular field of study. These courses are typically taken in the junior and senior years.
There are two main types of bachelor degrees: The Bachelor of Arts (BA) and the Bachelor of Science (BS). The Bachelor of Arts degree usually requires the student to take a majority of their courses in the arts (social sciences, humanities, music, or fine arts). Te Bachelor of Science degree usually requires the student to take a majority of their courses in the sciences (life sciences, physical sciences, or mathematical sciences).
By Kelly Malloy, a writer at Helium.com