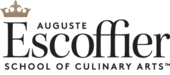 Request information
School

School Type:
Campus
Degrees Offered:

Diploma

Associate

Accreditation

Auguste Escoffier School of Culinary Arts in Austin, Texas is nationally accredited by the Council on Occupational Education (COE) and approved and regulated by the Texas Workforce Commission-Career Schools and Colleges. Auguste Escoffier School of Culinary Arts in Boulder, Colorado is nationally accredited by the Accrediting Council for Continuing Education and Training (ACCET) and approved and regulated by the Colorado Department of Higher Education, Division of Private Occupational Schools.†
† Indicates school information is being used instead of campus information
Associate
AAS Degree in Culinary Arts
AAS Degree in Pastry Arts
Diplomas
Diploma in Culinary Arts
Diploma in Pastry Arts
Colorado
Texas
For years, culinary and pastry professionals have been graduating from our schools, and many have gone on to achieve personal satisfaction and professional acclaim in establishments and institutions around the country. Most chose Auguste Escoffier School of Culinary Arts over bigger, less personal schools because we offer:
Small Class Size
Imagine a learning environment where an acclaimed Chef Educator is right by your side, giving you the personalized attention you need to master culinary or pastry techniques. The majority of your day is hands-on, experiential learning. You start and finish the program with the same cohort, acquiring the essential teamwork skills you need in the workplace. Our mentoring process is the best way to learn the craft of cooking.
Affordable Programs with Many Financing Options
Our philosophy is to offer affordable tuition to anyone with an appetite for a culinary career and a desire to enrich the fertile fields of culinary or pastry arts. We're proud of our diverse student community, their commitment to the kitchen and their accomplishments throughout the industry, and we are committed to offering outstanding culinary instruction to all who share our passion. Financial aid is also available for those who qualify.
Request information