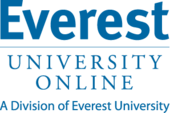 Request information
Everest University Online, a Division of Everest University makes career-training convenient and accessible. With courses tailored for working students and others who need a more flexible class schedule, Everest University Online allows students to learn from home and offers the same well-respected curriculum available at a traditional campus.
School

School Type:
Online
Degrees Offered:

Associate

Bachelor's

Accreditation

http://www.everest.edu/accreditation/online
For more information about our graduation rates, the median debt of students who completed the program and other important information, please visit our website at www.everestonline.edu/disclosures
Florida
The Everest Advantage
Top 10 Reasons You Should Earn an Online Degree at Everest
1. Accreditation
Our accreditation sets us apart. It's an accreditation that shows the strength of our academic programs and instruction. Learn how our accreditation benefits you.
2. Distinguished Faculty
Everest instructors are skilled educators with strong academic backgrounds. Most instructors have years of professional work experience. This unique combination of expertise provides our students with a rich learning experience.
3. National Recognition
Everest has campuses across the United States. When you join an Everest online degree program, you're part of a national community of students. Our family of Everest graduates and students are all over the country, which shows the strength of our growing community.
4. Career-Focused Education
We concentrate on providing our students with career-focused education. Our instructors are professionals in their field, and can provide you with insights that you can't get out of a text book.
5. Friendly and Supportive Learning Environment
We have a supportive learning environment by allowing students to work together on group projects, and by providing one-on-one interaction with your instructor. You can always find immediate feedback for your coursework, and get advice from other students.
6. Live Student Support 24/7
As an online student, you study when you have time. So we have a hotline you can call anytime to get technical help. Every student also has a Student Services Coordinator that will provide you with guidance and support throughout the life of your program.
7. Flexible Classes
Some online schools rush you through a 4-week class. We've found this causes unneeded strain and stress on students. It also doesn't provide a good learning environment. Our classes are exactly the same as our ground campus version. You have the same amount of time to complete your work as if you were in the classroom—except you study when and where you want.
8. Career Placement Services
We provide all our students with career placement services. We want you to get career support you need when finding a job. Our Career Services representatives can help you with your resume, interviewing skills, and finding a job in your area. And since we are part of a nationwide network of schools, employers from all over know the quality of our graduates. Our national presence can give you an edge in finding a job.
9. Accelerated Learning
Students may be able to transfer credits from previous college courses so that they can complete the program in a faster timeframe. Please contact the Transfer Center at (877) 727-0058, or email transfercenter@cci.edu for assistance.
10. Diverse Community
Everest has a diverse group of online students. Some students love spending time interacting with the instructor or other students through online discussion threads or chat rooms. Other students prefer to just log on and get their assignments. You can decide how active you want to be in each class. It's up to you.
NOTE: Everest University Online is not available to residents of California, Iowa, Massachusetts, Minnesota or Wisconsin. The Associate of Science in Business program is not available in Alabama. Arkansas and Minnesota graduates will receive an Associate of Applied Science degree upon successful completion of an approved associate degree program.



For more information of scholarship and payment options, including eligibility, terms and combining with other government programs, please contact Everest University Online.


For more information about our graduation rates, the median debt of students who completed the program and other important information, please visit our website at www.everestonline.edu/disclosures
Twitter Stream
Everest University's YouTube Channel
Request information