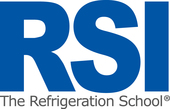 Request information
The mission of The Refrigeration School is to assist learners in development of the skills and knowledge necessary for employment and professional growth.
School

| | |
| --- | --- |
| School Type: | Campus |
| Degrees Offered: | Diploma |

Accreditation

The Refrigeration School is an accredited school by the Accrediting Commission of Career Schools and Colleges (ACCSC); complies with all local, state and federal regulations; and is licensed to operate by the Arizona State Board for Private Postsecondary Education.
Diplomas
Professional Welder with Pipefitting
Oklahoma
The Refrigeration School, Inc. (RSI) has trained individuals to become professional, entrylevel Heating, Ventilation, Air Conditioning and Refrigeration (HVAC/R) technicians since 1965. RSI has since expanded its training and now offers multiple career-focused training opportunities. RSI's instructors are experienced industry professionals. RSI's training programs are designed based on industry feedback to meet employers' needs. RSI promotes a student-centric learning environment to support the learner who desires to put forth the effort to achieve his or her desired professional goals. Students are expected to demonstrate a positive attitude, professional character, maintain excellent attendance and be alert and attentive during the training process. Graduates can look forward to a wide range of career opportunities. We at RSI want to ensure that your education experience is a rewarding one. Please note that RSI offers ample support to all its students. We wish you the best in achieving your educational and professional goals.
Accredited School, ACCSC. Licensed by the Arizona State Board for Private Post Secondary Education. The AOS/MME program is the Associate of Occupational Studies in Mechanical Maintenance Engineering degree program and is not an academic degree. For more information about our graduation rates, the median debt of students who complete our programs, and other important information, please visit our website at: http://www.refrigerationschool.com/about-rsi/regulatory-information/.
Refrigeration School Elsewhere
Request information