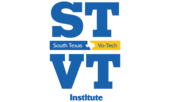 Request information
School

School Type:
Campus
Degrees Offered:

Diploma

Certificate

Accreditation

South Texas Vo-Tech is approved and regulated by:
Texas Workforce Commission
Career Schools and Colleges
101 East 15th St., Rm. 226T
Austin, Texas 78778-0001
(512) 936-3100

South Texas Vo-Tech campuses in Weslaco and Brownsville are accredited by:
The Council on Occupational Education (COE)
7840 Roswell Road Building 300, Suite 325
Atlanta, GA 30350
(770) 396-3898 Fax (770) 396-3790
www.council.org

• 2144 Central Blvd.
Brownsville, TX 78520
(Branch of Weslaco, TX Campus)

• 2419 E. Haggar Ave.
Weslaco, TX 78599

South Texas Vo-Tech campuses in Corpus Christi, McAllen, and San Antonio are accredited by:
Accrediting Commission of Career Schools and Colleges (ACCSC)
2101 Wilson Boulevard, Suite #302
Arlington, VA 22201
(703) 247-4212
www.ACCSC.org

• 734 SE Military Drive
San Antonio, TX 78214
(Branch of Platt College, Tulsa, OK Campus)

• 2000 S. Padre Island Dr.
Corpus Christi, TX 78416
(Branch of Platt College, Tulsa, OK Campus)

• 2400 Daffodil Avenue
McAllen, TX 78501
(Branch of Platt College, Tulsa, OK Campus)

The Professional Massage Therapy Program for Brownsville & McAllen are approved and regulated by Texas Department of State Health Services (DSHS) - DSHS license #MS1045.
Diplomas
Business Studies - Diploma
Combination Welding - Diploma
Diesel - Heavy Truck - Diploma
Medical Assisting - Diploma
We Are Focused On Your Success!
At South Texas Vocational Technical Institute (STVT), we are focused on one thing – preparing you for the career you want by providing you with the skills and knowledge you need. You'll find a supportive learning environment and career-focused training that is designed to help you gain the knowledge and hands-on training to succeed.
Business
Health Care & Wellness
Dental Assisting
Medical Administrative Assisting Technology
Medical Assisting
Professional Massage Therapy
Skilled Trades
Air Conditioning, Heating and Refrigeration
Automotive Service Technician
Combination Welding
Diesel Heavy Truck
Our Campuses
STVT offers five convenient locations to get the training to start or advance your career. We're located in:
STVT – Brownsville
2144 Central Blvd.
Brownsville, TX 78520
888.822.4046
STVT – Corpus Christi
2000 S Padre Island Dr.
Corpus Christi, TX 78416
888.822.4046
STVT – McAllen
2400 W Daffodil Ave.
McAllen, TX 78501
888.822.4046
STVT – San Antonio
734 SE Military Dr.
San Antonio, TX 78214
888.822.4046
STVT – Weslaco
2419 E Haggar Ave.
Weslaco, TX 78599
888.822.4046
Request information