Home »
Audio / Visual Production
Associate in Audio / Visual Production
Career summary: Film and Video Editors
Average Salary

$59,810

National Average, Source: Bureau of Labor Statistics

Career Outlook

Very Good

8% job growth by 2028, which is faster than average
Earn a degree in audio / visual production from an accredited college
One of the best ways to prepare for a career in audio / visual production is through a college education. An Associate will help you develop entry level skills, general audio / visual production know how and the basic audio / visual production experience you need to start your career off right. You may also consider a Bachelor's in Audio / Visual Production to help you take your education and career to the next level. Please select audio / visual production school below.
Overview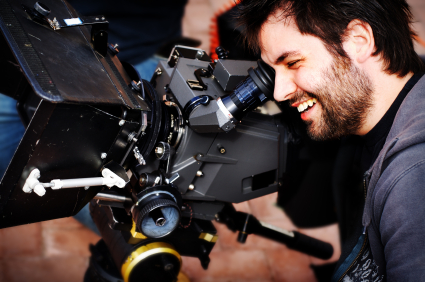 Why would I want a degree in audio/visual production?
There is always a need for audio/visual producers and technicians, so this is a very promising career path to follow. You can work behind the scenes in any number of entertainment industries, including radio, television, theater, sports and news broadcasting, and film. The paycheck's not bad, either, and depending on the industry you choose, you might get a chance to work with some of your favorite celebrities!
Job Description
What kinds of jobs could I get with a degree in audio/visual production?
Audio/visual producers are in charge of recording, managing, editing, and producing audio or video. You would monitor and maintain sound equipment like speakers and microphones, and video equipment like monitors, cameras, and projection equipment. You might also be in charge of fixing this equipment, training others to use or maintain it, and working with other areas of production (like lighting), or become a director of audio/visual production with others working for you.
5 Common Careers:
Visual Technician
Sound Engineering Technician
Audio/Visual Director
Audio/Visual Production Specialist
Multimedia Specialist
Salary
What classes will I take to get a degree in audio/visual production?
You'll take classes such as audio electronics, television field production, audio engineering, mixing and editing, marketing concepts, multimedia design and sound production. You'll also need to take your general education courses (English, math, sciences, etc).
Career Outlook
How popular are jobs in audio/visual production?
Jobs in audio/visual production are fairly consistently in demand. Since jobs requiring these skills are found in the radio, television, and film industries, as well as in news and sports broadcasting, there are a multitude of areas you could work depending on your specialties and preference. A degree in the audio/visual field could also lead into other careers including in the music industry and theater.
Career Path
How do I become an audio/visual producer?
An associate's or bachelor's degree is a good place to start. A degree in something such as broadcast or electronic communications, or cinema, audio, or digital media production will give you the knowledge that you need to begin your career, and specializing in an area like multimedia production an extra boost. Internships and other on-the-job training will give you a leg-up on the competition, too. And it's always good to start early – join the audio/visual club in high school and learn as much as you can!
Audio / Visual Production Schools (5)
...Please wait... more schools are loading...