Home »
Secondary Diplomas & Certificates
Associate in Secondary Diplomas & Certificates
Career summary: High School Teachers
Average Salary

$61,660

National Average, Source: Bureau of Labor Statistics

Career Outlook

Good

4% job growth by 2028, which is below average
Earn a degree in secondary diplomas & certificates from an accredited college
One of the best ways to prepare for a career in secondary diplomas & certificates is through a college education. An Associate will help you develop entry level skills, general secondary diplomas & certificates know how and the basic secondary diplomas & certificates experience you need to start your career off right. You may also consider a Bachelor's in Secondary Diplomas & Certificates to help you take your education and career to the next level. Please select secondary diplomas & certificates school below.
Overview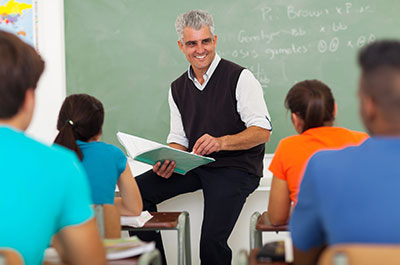 Why would I want a degree in secondary education?
Secondary education (high school) teachers help prepare students for life after graduation. They teach academic lessons and various skills that students will need to attend college and to enter the job market.
Job Description
What does a high school teacher do?
High school teachers typically do the following:
Plan lessons in the subjects they teach, such as biology or history
Assess students to evaluate their abilities, strengths, and weaknesses
Teach students as an entire class or in small groups
Grade students' assignments to monitor progress
Communicate with parents about students' progress
Work with individual students to challenge them, to improve their abilities, and to work on their weaknesses
Prepare students for standardized tests required by the state
Develop and enforce classroom rules
Supervise students outside of the classroom—for example, at lunchtime or during detention
Salary
How much do high school teachers make?
The median annual wage for high school teachers was $61,660 in May 2019. The median wage is the wage at which half the workers in an occupation earned more than that amount and half earned less. The lowest 10 percent earned less than $40,540, and the top 10 percent earned more than $99,660.
High school teachers generally work school hours, which vary from school to school. However, they often spend time in the evenings and on weekends grading papers and preparing lessons. In addition, they may meet with parents, students, and other teachers before and after school. Plus, teachers who coach sports or advise clubs generally do so before or after school.
Career Outlook
How popular are high school teacher jobs?
Employment of high school teachers is projected to grow 4 percent from 2018 to 2028, about as fast as the average for all occupations. Overall growth is expected because rising student enrollment should increase demand for high school teachers.. However, employment growth will vary by region.
From 2012 to 2022, the student-to-teacher ratio is expected to decline slightly. The student-to-teacher ratio is the number of students for each teacher in school. When this ratio declines, each teacher is responsible for fewer students, so more teachers are required to instruct the same number of students. The expected decline in the student-to-teacher ratio will increase the demand for high school teachers.
Career Path
How do I become a high school teacher?
All states require public high school teachers to have at least a bachelor's degree. Most states require high school teachers to have majored in a subject area, such as chemistry or history. While majoring in a subject area, future teachers typically enroll in their higher education's teacher preparation program and take classes in education and child psychology as well.
Secondary Diplomas & Certificates Schools (0)
...Please wait... more schools are loading...