Home »
Educational Leadership
Bachelor's Degrees in Educational Leadership
Career summary: Elementary, Middle, and High School Principals
Average Salary

$87,760

National Average, Source: Bureau of Labor Statistics

Career Outlook

Good

6% job growth by 2022, which is below average
Earn a degree in educational leadership from an accredited college
One of the best ways to prepare for a career in educational leadership is through a college education. A Bachelor's Degree will help you develop entry level skills, general educational leadership know how and the basic educational leadership experience you need to start your career off right. You may also consider a Continuing Education in Educational Leadership to help you take your education and career to the next level. Please select educational leadership school below.
Overview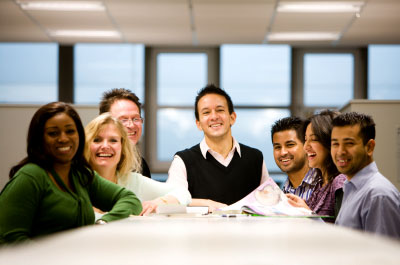 Why would I want an educational leadership degree?
A degree in educational leadership would qualify you for leadership jobs in the academic world, which are becoming more and more important in today's academic environment. If you have an educational background, and feel that you would like to play a role on a more macro level in helping students receive a high quality education, then a degree in educational leadership would be a good fit for you.
Job Description
What do people with educational leadership degrees do?
People who get their degrees in educational leadership usually go on to become educational administrators of some kind. Educational administrators have an important role of providing instructional leadership and manage the day-to-day activities in schools, preschools, day care centers, colleges, and universities.
Due to the United States' decline in academic competitiveness and the rise of other nations' academic competiveness in recent decades, educational leaders play a vital role in making sure students receive a quality education and in helping our students receive the skills needed to become more academically competitive. They are in charge of setting academic goals and standards and establishing the policies and procedures required to achieve them. They also manage; supervise; and hire and fire teachers, librarians, counselors, coaches, and support staff. In universities and other large institutions, these duties may be divided up among several or many administrators.
Some of the most common positions in school administration include:
School Principals: They are responsible for the overall administration of the school. With almost all decisions that are associated with running a school the buck stops with the principal. He or she is in charge of everything from academic standards, to managing teachers, to disciplining students, etc.
Assistant School Principals: In larger schools it's impossible for one person to keep up with all of the responsibilities of running a school, so assistant principals assist principles in managing the day-to-day affairs of the school.
School District Superintendents: Sometimes known as chief executive officers of the public school, they are responsible for smooth operation of school districts.
Central Office Administrators: As employees of the district central offices, they are in charge of direct subject area programs, such as English, math, music, etc.
Academic Deans: They are in charge of departments that specialize in a particular subject (i.e. Department of Far Eastern Languages, School of Accounting, etc.). In addition to their responsibilities as a professor, they also have the responsibility of running their departments. Some of their responsibilities include recruiting professors, proposing budgets, evaluating faculty members, serving on committees, etc.
Preschool Directors: They are generally the sole administrator at their schools and are in charge of making sure their schools run smoothly. They have essentially the same responsibilities as principles.
Salary
How much to education administrators make?
There is a large salary range for school administrators, depending on their specific possessions and duties. The median annual salary for a preschool director is around $40,000, while the median annual salary for a district superintendant or an academic dean is around $150,000. The average annual salary for a principle ranges from $85,000 to $100,000, depending on the type of school.
Career Outlook
How popular are education administrator jobs?
For those who are already in the education field, administration jobs are quite popular. This is due to higher salaries and the ability to effect the education of students on a broader scale.
The growth rate for jobs in this field is expected to be about 8% through the year 2018, according to the Bureau of Labor Statistics, which is about the average growth rate among all jobs. Job opportunities will be better than average, though, due to the high number of expected retirements and fewer applicants for some positions.
Career Path
How do I become an education administrator?
In order to become an education administrator, you must have first received at least a bachelor's degree in an educational field and have formal teaching experience. Once that requirement is filled, you need to earn a master's or doctoral degree in educational leadership or a related field. If you are planning to be an administrator for a department specific subject, then you need to earn a master's or a doctoral degree in that given subject.
Educational Leadership Schools (1)
...Please wait... more schools are loading...