Home »
Welding / Fabrication
Certificates in Welding / Fabrication
Career summary: Welders, Cutters, Solderers, and Brazers
Average Salary

$42,490

National Average, Source: Bureau of Labor Statistics

Career Outlook

Good

3% job growth by 2028, which is below average
Earn a degree in welding / fabrication from an accredited college
One of the best ways to prepare for a career in welding / fabrication is through a college education. A Certificate will help you develop entry level skills, general welding / fabrication know how and the basic welding / fabrication experience you need to start your career off right. You may also consider a Bachelor's in Welding / Fabrication to help you take your education and career to the next level. Please select welding / fabrication school below.
Overview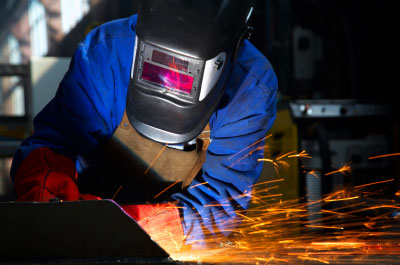 Why would I want a welding technology degree?
A degree in welding technology would give you the skills you need to enter into a field in which employers are having a difficult time finding qualified personnel. You can earn your degree in just two years or less and be on your way to starting your career. If you like to work with your hands and like to build and put things together, then a degree in welding technology may be just the thing for you.
Job Description
What do people with welding technology degrees do?
People who get their degrees in welding technology go on to become welders, cutters, solderers, and brazers. With the automation of welding becoming more and more common, welder technology graduates may also choose to become welding, soldering, and brazing machine setters, operators, and tenders.
Welders: They specialize in welding (joining) materials together. The materials may consist of metal (such as steel, aluminum, brass, stainless steel, etc.) or any number of plastics or polymers.
Cutters: They use heat from plasma or burning gasses to cut metal objects to fit specific dimensions. They also take apart large objects made of metal, such as ships, railroad cars, automobiles, and even buildings.
Solderers and Brazers: They use molten metal to join two pieces of metal together. The molten metal used has a lower melting point than the pieces being joined together, so the pieces being joined are never melted.
Welding, Soldering, and Brazing Machine Setters, Operators, and Tenders: They load parts into machines and closely monitor the welding process being performed by machines and robots.
Welding technology graduates may find job opportunities in a variety of industries. Some of the most common industries for employing welding technology graduates are listed below.
General Purpose Machinery Manufacturing
Agriculture, Construction, and Mining Machinery Manufacturing
Commercial and Industrial Machinery and Equipment Repair and Maintenance
Architectural and Structural Metals Manufacturing
Motor Vehicle Body and Trailer Manufacturing
Salary
How much do welding technology graduates make?
According to the Bureau of Labor Statistics, the median hourly wage for welders, cutters, solderers, and brazers in 2019 was $20.43. The middle 50 percent earned between $16.80 and $25.17 per hour. The lowest 10 percent earned less than $14.17/hour, and the top 10 percent earned more than $30.89/hour.
Career Outlook
How popular are welding and other related jobs?
The nation's aging infrastructure will require the expertise of welders, cutters, solderers, and brazers to help rebuild bridges, highways, and buildings. Also, the construction of new power generation facilities and, specifically, pipelines transporting natural gas and oil may result in new jobs.
New jobs for welders are projected in manufacturing industries that produce fabricated metal products and transportation equipment. The basic skills of welding are similar across industries, so welders can easily shift from one industry to another, depending on where they are needed most. For example, welders who are laid off in the automotive manufacturing industry may be able to find work in the oil and gas industry.
Career Path
How do I become a welding professional?
Welding is a trade, so it can be learned through apprenticeship or on-the-job training. Most employers, though, are looking to hire people who have formal training at a technical college or university, especially since welders have to have a lot more technical knowledge than they did in the past. A degree in welding technology can be earned in as little as two years, and there is a variety of schools that offer this type of training.
Welding / Fabrication Schools (4)
...Please wait... more schools are loading...