Diplomas in Addiction Studies
Career summary: Substance Abuse and Behavioral Disorder Counselors
Average Salary

$46,240

National Average, Source: Bureau of Labor Statistics

Career Outlook

Excellent

22% job growth by 2028, which is much faster than average
Earn a degree in addiction studies from an accredited college
One of the best ways to prepare for a career in addiction studies is through a college education. A Diploma will help you develop entry level skills, general addiction studies know how and the basic addiction studies experience you need to start your career off right. You may also consider a Bachelor's in Addiction Studies to help you take your education and career to the next level. Please select addiction studies school below.
Overview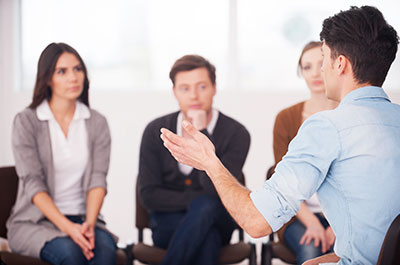 Why would I want an addiction studies degree?
A degree in addiction studies can prepare you for a career in substance abuse counseling or other behavioral disorder therapies.
Job Description
What does an substance abuse counselor do?
Substance abuse and behavioral disorder counselors advise people who suffer from alcoholism, drug addiction, eating disorders, or other behavioral problems. They provide treatment and support to help the client recover from addiction or modify problem behaviors.
Career Outlook
How popular are substance abuse counseling jobs?
Employment of substance abuse and behavioral disorder counselors is projected to grow 22 percent from 2018 to 2028, much faster than the average for all occupations. Growth is expected as addiction and mental health counseling services are increasingly covered by insurance policies.
Federal legislation mandating individual health coverage may increase the number of health insurance customers. In addition, the law requires insurance plans to cover treatment for mental health issues in the same way as other chronic diseases. These factors will open up prevention and treatment services to more people who were previously uninsured, did not have these services covered, or found treatment to be cost-prohibitive. Mental health centers and other treatment and counseling facilities will need to hire more mental health counselors and marriage and family therapists in order to meet this increased demand.
Demand for substance abuse and behavioral disorder counselors may also increase as states seek treatment and counseling services for drug offenders rather than jail time.
Career Path
How do I become a substance abuse counselor?
Educational requirements range from a high school diploma to a master's degree, depending on the setting, type of work, state regulations, and level of responsibility. Workers with a high school diploma typically go through a period of on-the-job training.
Substance abuse and behavioral disorder counselors in private practice must be licensed. Licensing requirements vary by state, but all states require a master's degree and between 2,000 to 4,000 hours of supervised clinical experience. In addition, counselors must pass a state-recognized exam and complete continuing education every year.
Addiction Studies Schools (0)
...Please wait... more schools are loading...