Diplomas in Biology
Career summary: Microbiologist
Average Salary

$75,650

National Average, Source: Bureau of Labor Statistics

Career Outlook

Good

5% job growth by 2028, which is as fast as average
Earn a degree in biology from an accredited college
One of the best ways to prepare for a career in biology is through a college education. A Diploma will help you develop entry level skills, general biology know how and the basic biology experience you need to start your career off right. You may also consider a Bachelor's in Biology to help you take your education and career to the next level. Please select biology school below.
Overview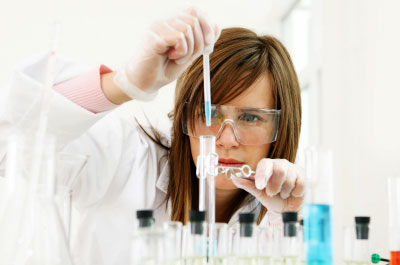 Why would I want a biology degree?
A degree in biology will give you the knowledge and skills you need to pursue an exciting career in an industry that has a great job outlook and may take you to interesting and exotic places. If you are interested in researching living organisms, if you would like to work in labs or outdoors in exotic locations, and if you are a detailed oriented person, then a degree in biology may be a good fit for you.
Job Description
What do people with biology degrees do?
In general, people who get their degrees in biology go on to become professional biologists. Biologists research and study living organisms and their relationship with each other and with the environment. Most biologists specialize in one of a variety of areas in the field of biology. The most common specialties in biology are listed below.
Aquatic and Marine Biologists: Aquatic biologists study micro-organisms, plants, and animals living in water, and marine biologists specialize in studying organisms and plants living in salt water.
Biochemists: They study chemical processes and chemical transformations in living organisms, which include metabolism, reproduction, and growth.
Botanists: They study plants, which includes algae, fungi, lichens, mosses, ferns, conifers, and flowering plants. Their work includes anything from the classification of plants, to the structure and function of plant parts, to the healing properties of plants.
Ecologists: They study the distribution and abundance of living organisms and how the distribution and abundance are affected by interactions between the organisms and their biophysical environment. They also study factors that influence the evolutionary process.
Microbiologists: They investigate the growth and characteristics of microscopic organisms such as bacteria, algae, or fungi. They may specialize in a particular area such as immunology (the study of organisms that fight infections), food, or virology (the study of viruses).
Physiologists: They study the function of living organisms (plants and animals). This includes the study of how organisms carry out chemical and physical processes.
Zoologists: They study animals and wildlife, which includes their origin, behavior, diseases, and life processes. Some zoologists study animals in a controlled environment, while others study them in their natural habitat.
Salary
How much do biologists make?
The figures given below were taken from the Bureau of Labor Statistics website, and they are based on median salaries in 2019.
The median annual salary for biochemists and biophysicists was $94,490. The lowest 10 percent earned less than $50,620, and the highest 10 percent earned more than $182,870.
The median annual salary for microbiologists was $75,650. The lowest 10 percent earned less than $43,500, and the highest 10 percent earned more than $133,280.
The median annual salary for zoologists and wildlife biologists was $63,270. The lowest 10 percent earned less than $33,880, and the highest 10 percent earned more than $101,780.
Source: https://www.bls.gov/ooh/life-physical-and-social-science/microbiologists.htm.
Career Outlook
How popular are biologist jobs?
In recent years, jobs in biology have been quite popular, and they will continue to be popular into the foreseeable future. According to the Bureau of Labor Statistics, jobs in this field will grow by 5 percent through the year 2028, which is as fast as the average growth rate among all jobs. Spurring this growth will be the continued high demand in the biotech industry, as well as efforts to discover new and improved ways to clean up and preserve the environment.
Career Path
How do I become a biologist?
To become a professional biologist, a formal degree in biology is essential. A bachelor's or a master's degree in biology is sufficient for research technician and product development positions. If you want to do independent research, especially in academia, then a doctorate degree is almost always required.
...Please wait... more schools are loading...