Diplomas in Craftsman Trades
Career summary: Carpenters
Average Salary

$48,330

National Average, Source: Bureau of Labor Statistics

Career Outlook

Good

8% job growth by 2028, which is faster than average
Earn a degree in craftsman trades from an accredited college
One of the best ways to prepare for a career in craftsman trades is through a college education. A Diploma will help you develop entry level skills, general craftsman trades know how and the basic craftsman trades experience you need to start your career off right. You may also consider a Bachelor's in Craftsman Trades to help you take your education and career to the next level. Please select craftsman trades school below.
Overview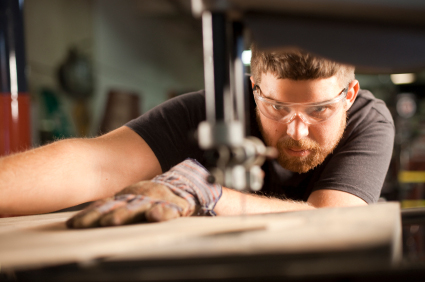 Why would I want a cabinet making and millwork degree?
Are you artistic? Do you like working with your hands? If so, then a cabinet making and millwork degree might be just what you are looking for to start your career. A degree in cabinet making and millwork will give you the skills you need to get started as a professional woodworker. Woodworking is one of the oldest trades in history, and it's a skill and trade that is, and has always been, admired by others.
Job Description
What do people with cabinet making and millwork degrees do?
People who get degrees and/or certificates in cabinet making and millwork go on to become professional woodworkers, often times known as carpenters. Within the woodworking industry there are a variety of specialties. Some of those specialties include:
Cabinet Makers: Design and create sets of cabinets. They are often times custom cabinets which are made for particular spaces.
Furniture makers: Design, create, finish, and stain custom furniture. It could be anything from a simple chair, to a desk in a hotel lobby, to a booth in a restaurant.
Trim Carpenters: Specialize in molding and trim, such as door and window casings, mantels, baseboard, and other types of ornamental work. Carpenters who install cabinets may also be referred to as trim carpenters.
Model Makers: Make scale models of buildings and other projects that are used to show and outlay construction projects.
Woodworking Machine Setters & Operators: Specialize in operating specific kinds of woodworking machinery, such as edgebanders, panel saws, wood moulders, etc.
Woodworking has changed quite a bit in recent years. It used to be that most woodwork was done by hand. These days, woodworkers must have technical and machine operating skills, as their trade now relies on a lot of automated machinery, such as computerized numerical control machines. This lends to a lot of companies that do high production wood products on assembly lines. Fortunately, there are still some artisans who do customized work. Even their work has changed, though, with the use of power tools and other machinery that has only been available in recent years.
Salary
How much to woodworkers make?
According to the Bureau of Labor Statistics, the median hourly wage for woodworkers in 2019 was $15.92. The middle 50 percent earned between $12.01 and $21.06 an hour. The lowest 10 percent earned less than $10.48/hour, and the highest 10 percent earned more than $25.81/hour.
For those who are self-employed and have their own businesses, which are only about 12% of woodworkers, they can charge much more for their time, especially if they are very skilled in a particular area. This will continue to be so, since custom woodworkers are becoming more and more difficult to find.
Career Outlook
How popular are woodworking jobs?
Throughout time, there has always been a demand for woodworkers, especially those who are highly skilled. There will continue to be a demand for woodworkers into the foreseeable future; although, the growth rate for jobs in woodworking (-1%) will be slower than the average job rate among all jobs through the year 2028. This is mostly due to the increase in automation in the wood product manufacturing industry.
Despite the slower than average job growth rate, job opportunities in the woodworking industry will still be good. In fact, the Bureau of Labor Statistics predicts that jobs opportunities will be excellent for those who are highly skilled and have specialties that aren't susceptible to automation and competition from imported wood products.
Career Path
How do I become a woodworker?
Woodworking is a trade that can be learned through on-the-job training or through apprenticeship. In today's woodworking industry, though, it is wise to receive formal training at a university or a technical college. A degree or certificate in cabinetmaking and millwork will give you not only the experience you need to get started in the field, but it will also provide you with the technical knowledge that is now needed in order to be a successful woodworker.
Craftsman Trades Schools (0)
...Please wait... more schools are loading...