Diplomas in Geography
Career summary: Geographers
Average Salary

$81,540

National Average, Source: Bureau of Labor Statistics

Career Outlook

Good

3% job growth by 2028, which is slower than average
Earn a degree in geography from an accredited college
One of the best ways to prepare for a career in geography is through a college education. A Diploma will help you develop entry level skills, general geography know how and the basic geography experience you need to start your career off right. You may also consider a Bachelor's in Geography to help you take your education and career to the next level. Please select geography school below.
Overview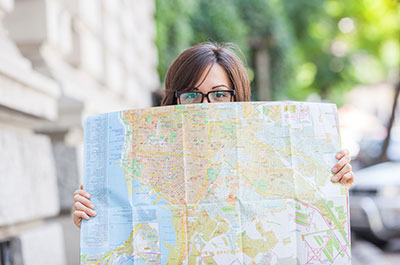 Why would I want a geography degree?
With a geography degree you might become a TV weatherman or a cartographer for a travel guide publisher; get involved in transportation and urban and community planning or teach overseas; serve as a park ranger or an outdoor guide; or become an environmental specialist or a GIS analyst. The Association of American Geographers claims that most geographers work in business, government, or teaching.
Job Description
What does a person with a geography degree do?
Geographers study the earth and its land, features, and inhabitants. They also examine phenomena such as political or cultural structures as they relate to geography. They study the physical and human geographic characteristics of a region, ranging in scale from local to global.
Salary
How much does a geographer make?
The median annual wage for geographers was $81,540 in May 2019. The median wage is the wage at which half the workers in an occupation earned more than that amount and half earned less. The lowest 10 percent earned less than $52,280, and the top 10 percent earned more than $113,140.
Many geographers work full time during regular business hours. Some do fieldwork that may include travel to foreign countries or remote locations.
Career Outlook
How popular are geographer jobs?
More widespread use of geographic technologies, including geographic information systems (GIS), should drive job growth. These technologies allow government agencies, businesses, and nonprofits to use geographic data to make better business and planning decisions. Specifically, governments, businesses, and developers will need geographers to analyze information and offer advice on topics such as land use, building or infrastructure location, or environmental impact.
Due to greater focus on environmental and sustainable practices, geographers are increasingly needed to understand environmental changes and human impacts on the environment. Therefore, geographic analyses will be used to inform developers and policymakers of sustainable business practices and ensure adherence to increased regulations.
Career Path
How do I become a geographer?
Geographers outside of the federal government typically need a master's degree in geography. However, those with a bachelor's degree may qualify for some entry-level jobs in government or nonprofits. Some positions allow candidates to substitute work experience or GIS proficiency for an advanced degree. Top research positions usually require a Ph.D. or a master's degree and several years of relevant work experience.
...Please wait... more schools are loading...