Diplomas in Homeland Security / Public Safety
Career summary: Security Guard
Average Salary

$29,710

National Average, Source: Bureau of Labor Statistics

Career Outlook

Good

4% job growth by 2022, which is average
Earn a degree in homeland security / public safety from an accredited college
One of the best ways to prepare for a career in homeland security / public safety is through a college education. A Diploma will help you develop entry level skills, general homeland security / public safety know how and the basic homeland security / public safety experience you need to start your career off right. You may also consider a Bachelor's in Homeland Security / Public Safety to help you take your education and career to the next level. Please select homeland security / public safety school below.
Overview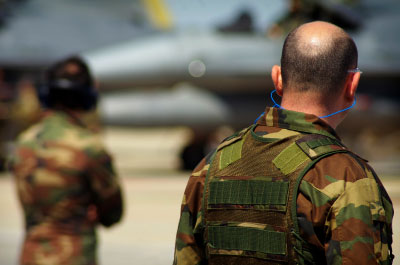 Why should I get a homeland security degree?
Homeland security is an effort to defend the mass public—including your own family and friends—from powerful threats aimed at the very places they live and work. If you wish to defend domestic tranquility, this is an excellent job for you. You may also be interested in providing relief to the victims of hurricanes, earthquakes, and other disasters. If those causes don't fully convince you, consider that many jobs, especially in management positions, have great pay as well. Aptitudes with technology, computer science, and data management could also lead to homeland security.
Job Description
What kinds of jobs could I get in homeland security / public safety?
Some common careers include immigration officer, security specialist, deportation officer, IT specialist, intelligence operations specialist, transportation security screener, emergency management, and remote sensing analyst. You may also be involved with the DHS in accounting or other necessary subdivisions. Some related fields include medicine, fire protection, law and law enforcement, or computer science. Whichever is your choice, you can take pride in knowing you have contributed to the safety of America.
Common Jobs
security specialist
emergency management director
federal air marshal
information security analyst
remote sensing analyst
Salary
How much I will make?
In homeland security, you have earning power in the range of $45,000 to $100,000. As a security guard, you'll likely earn between $24,650 and $37,950.
Career Outlook
How is the job market?
Excluding the Postal Service, the federal government is the number one employer in the nation. Its Department of Homeland Security is one of the top five agencies for employment. Other agencies, state, and local governments also provide opportunities Beyond government, there are industries and nonprofits in the private sector. Overall, growth will be average. However, there are new fields opening up as security threats increase, U.S. prevention measures expand, and cybersecurity becomes more important. With a degree, you can almost certainly obtain a homeland security or related criminal justice career somewhere.
Career Path
What skills do I need?
Something important to know is that as a defense against threats to the homeland, you'll be subject to thorough background checks or security clearances for some jobs. You may need to have a clean record, and the examination process can lengthen the time it takes before you're accepted. Some skills and knowledge that may be useful in homeland security include analytical thinking, complex understanding of problem solving, administration, telecommunications, and data and networking. You should also be ethical and self-disciplined. If you work in emergency relief and planning, expect to work difficult and irregular hours. Familiarity with information technology or sciences can be helpful also.
What classes will I take to get my homeland security degree?
You will be prepared in law enforcement, military, public health & safety, and security. STEM disciplines (science, technology, engineering, mathematics) play a significant role in many homeland security careers. You will likely have classes that reflect this. Some curricula may teach you emergency procedures, management, and supervision. You'll need at least a bachelor's degree for many good jobs, and a master's is recommended for higher-level positions and salaries. Experience in the field will be valuable as well. Some schools do have a focus on homeland security and public safety, while others have similar degrees in related criminal justice areas. Many programs are offered mostly online.
Homeland Security / Public Safety Schools (0)
...Please wait... more schools are loading...