Doctoral Degrees in Fine Arts
Career summary: Craft and Fine Artists
Average Salary

$48,760

National Average, Source: Bureau of Labor Statistics

Career Outlook

Poor

1% job growth by 2028, which is below average
Earn a degree in fine arts from an accredited college
One of the best ways to prepare for a career in fine arts is through a college education. A Doctoral Degree will help you develop entry level skills, general fine arts know how and the basic fine arts experience you need to start your career off right. You may also consider a Post-doctoral Certificate in Fine Arts to help you take your education and career to the next level. Please select fine arts school below.
Overview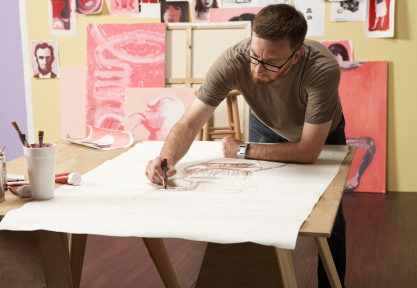 Why would I want a degree in fine art?
In an economy where companies are downsizing and jobs can be scarce, the fine arts can be one of the most successful and versatile careers to be in. Fine artists not only develop skills in their medium, they learn how to problem solve, how to self-motivate, and how to analyze themselves and others to come up with the most effective ways to operate. In short, they become great leaders! They might also learn other useful skills, such as photography, how to be an art preparator (which is good for work in galleries and museums), how to build frames or packaging for art, and more. All of these skills translate well to a multitude of different jobs, making someone who holds a degree in fine art a very marketable candidate.
Job Description
What kinds of jobs could I get with a degree in fine art?
There are endless possibilities! Fine artists work in museums and galleries, in advertising and marketing, and in theater and film. They are teachers, crafters, illustrators, art therapists, and work in all areas of design from graphic, web, and game design to industrial, interior, costume, make-up and set design and more. They work in community arts and arts administration, as photographers, jewelers & metalsmiths. If you start looking around, you'll find that there are innumerable opportunities for fine artists!
Top 5 Careers
Art Teacher -€œ teaching in the k-12 school setting or at the college level, as well as in continuing education and other settings.
Art Director -€œ directing media production, design concepts, and overseeing general creative production.
Fine Artist -€œ making paintings, sculpture, and drawings to be displayed in museums and galleries.
Commercial Artist -€œ working behind the scenes for magazines, newspapers, etc, designing layouts, graphics, and more.
Craft Artist – creating hand-made objects (woven or dyed fabrics, pottery, quilts) for sale or show.
Salary
How much do fine artists make?
That really depends on what sort of job you get. The median annual wage for fine artists in the motion picture and video industry is about $100,000. The median annual wage for fine artists in scientific research and development services is over $77,000.
Career Outlook
What classes will I take to get a fine arts degree?
You will take general education classes in science, math, humanities, and social sciences, as well as numerous art history courses (history is much more interesting when it's explained through art). Then there are your studio courses. You'll start out with a variety of studio classes – painting, drawing, 2-D and 3-D design, etc – to give you a feel for the different areas of study. Then you will settle on a concentration area, and take 20-30 or more hours of studio classes in your chosen area.
Career Path
What skills do I need to become a fine artist?
In order to go to get a degree in fine art, you'll need to start out with a portfolio of your work (drawings, paintings, 3-D pieces, etc) – it doesn't have to be perfect, but should be your best work. You'll usually have to do a portfolio review with the admissions officers at the school as a part of your application process. You should also have the ability to work on your own, problem solve, and work through the creative process. These are all skills that will be developed further as you learn in school, but are good to have when you start.
...Please wait... more schools are loading...