Graduate Certificates in Agriculture
Career summary: Farmers, Ranchers, and Other Agricultural Managers
Average Salary

$71,160

National Average, Source: Bureau of Labor Statistics

Career Outlook

Poor

-1% job growth by 2028, which little or no change
Earn a degree in agriculture from an accredited college
One of the best ways to prepare for a career in agriculture is through a college education. A Graduate Certificate will help you develop entry level skills, general agriculture know how and the basic agriculture experience you need to start your career off right. You may also consider a Master's in Agriculture to help you take your education and career to the next level. Please select agriculture school below.
Overview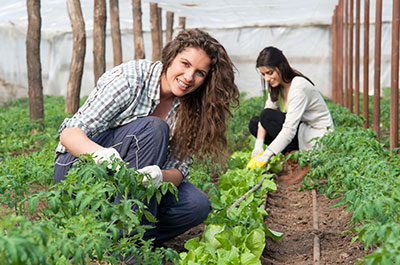 Why would I want an agriculture degree?
A degree in agriculture will give you the knowledge and skills you need to do a variety of work in one of the oldest and very most important industries in our economy. If you are interested in working outdoors, if you like working with your hands, and if you enjoy learning about and cultivating animals and plant life, then a degree in agriculture may be a good fit for you.
Job Description
What do people with agriculture degrees do?
People who get their degrees in agriculture have a wide variety of career options to choose from. They may do anything from growing crops, to testing soil samples, to selling animals at auction. The majority of jobs that agriculture degree holders go into can fit into one of the categories listed below.
Crop Production: People in this industry plant and grow crops of all sorts. The crops they grow may include edible crops such as grains, fruits, and nuts; and it may also include crops which are used for purposes other than eating, such as cotton, tobacco, and flowers. Most crop producers' specialties fit into one of three categories: grains, field crops, or horticultural specialties.
Animal Production: People in this industry raise animals of all kinds and for various purposes. Some of the most common types of animals which are raised include cattle, poultry, sheep, hogs, horses, and fish. Some of these animals are used for recreation and work purposes (horses), some are used for their meat and byproducts (cattle and poultry), and some are used for both (fish).
Support Services for Agriculture: People in this industry provide goods and services that help support the agriculture industry. Some are agricultural scientists for the Federal Government doing research, development, or operational work. Others are in the pesticide industry and they research and provide pesticides that are safe for farmers to use on their crops. Other jobs in this field include feedlot manager, soil scientist, greenhouse manager, aboriculturalist, pest manager, and wildlife manager.
Fishing: They catch fish, mainly for human consumption, animal feed, and bait, but they may have other uses as well. This may be done on a smaller scale with fishing rods on small fishing boats, or it may be done on a large scale with very large fishing boats and nets. Larger ships usually have a captain, first mate, and boatswains.
Logging and Forestry: They specialize in growing and harvesting timber. The cycle for timber is quite long (usually at least 10 years, sometimes longer), and people in this industry usually specialize in different stages of the production cycle. Some of these specialties include reforestation, diseased or damaged trees, and harvesting.
Salary
How much do agriculture professionals make?
According to the Bureau of Labor Statistics, the average salary for professionals in agriculture, forestry, and fishing in 2019 was $71,160. The lowest 10 percent earned $37,530, and the highest 10 percent earned more than $132,760.
Salaries do vary greatly in the agriculture industry according to the exact field and profession. For example, according to the Bureau of Labor Statistics, the median annual salary for agricultural inspectors was $45,490. The median annual salary for conservation scientists was $62,660, and the median annual salary for foresters was $61,790.
Career Outlook
How popular are agriculture jobs?
Jobs in this industry are not as popular as they once were. Jobs are in decline (-1%) through 2028, according to the Bureau of Labor Statistics. Some of the reason for the lack of growth is rising costs, greater productivity, increasing urbanization, and greater imports of lumber and fish.
Career Path
How do I become a professional in agriculture?
Many jobs in this industry are learned on the job. There are more and more people in this industry, though, who are getting college degrees, especially farmers, ranchers, and agricultural managers who are seeking to make a living from their work. A degree in agriculture helps them learn how to run a business and how to take advantage of new agricultural technologies. If you are looking to earn a living in agriculture, one of the best things you could do for yourself is to get an agriculture degree.
...Please wait... more schools are loading...