Home »
Photography / Film Studies
Graduate Certificates in Photography / Film Studies
Career summary: Photographers
Average Salary

$36,280

National Average, Source: Bureau of Labor Statistics

Career Outlook

Poor

-6% job growth by 2028, which is below average
Earn a degree in photography / film studies from an accredited college
One of the best ways to prepare for a career in photography / film studies is through a college education. A Graduate Certificate will help you develop entry level skills, general photography / film studies know how and the basic photography / film studies experience you need to start your career off right. You may also consider a Master's in Photography / Film Studies to help you take your education and career to the next level. Please select photography / film studies school below.
Overview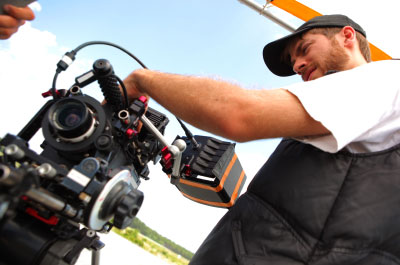 What skills do I need to become a Photographer?
Photographers need more than a nice camera and good editing skills. To be a truly great and successful photographer, you need to have a good eye. What does that mean exactly, you ask? Well, a great photographer needs to be able to capture more than just an image – she needs to capture the essence of what they are photographing. Whether it's a look in a person's eye, the festive feeling of a party, the playfulness of a pet, or the majesty of a mountain, a great photographer finds just the right angle, lighting, and composition to get those details across. Learning about shutter speeds and what the heck an F-stop is will come as you take classes, but learning how to capture an essence will only come through practice and study of those who already have It!
Job Description
What kinds of jobs could I get with a degree in Photography?
There are many different types of photography and many different types of photographers. You could work for a newspaper, taking photos of sports, speeches, and local events; or work for a magazine, photographing celebrities, flowers, horses and hounds, crafts, or political events. You might become a fashion photographer and work with models and designers, or be a fine art photographer, working with paintings and artists. Freelance photographers do all of the above, but aren't tied to any one company or organization. There's also the option of doing family photography – Christmas photos, senior pictures, weddings, Bar and Bat Mitzvahs, and taking those photos realtors put on city benches.
5 Common Careers:
Commercial/Industrial Photographer
Scientific Photographer
Fashion Photographer
Fine Art Photographer
Freelance Photographer
Salary
How much would I make as a Photographer?
Unless you're the next Annie Leibovitz, you're probably not going to be making bank right off the bat as a photographer. Self-employed photographers don't make as much (usually) as those who work for magazines or large companies Photographers in the Broadcasting industry make on average about $22/hour, while most self-employed photographers make around $15/hour. If you work your way up and gain recognition and popularity, you could make more.
Career Outlook
How popular are jobs in Photography?
Jobs as a photographer are very popular. In other words, be prepared for some competition. However, contrary to popular opinion, an expensive camera does not a good photographer make. If you have a good eye, a gift for conceptual photography, or connections that will help you sneak into high-profile events other photographers can't get into, you'll have a better chance at getting the job you really want. Even if you miss out on your first choice, keep practicing and maybe work freelance for a while. Staying on top of new trends and techniques will keep you in the running.
Career Path
What classes will I take to get a degree in Photography?
You'll take the general basics: English, science, math, along with a plethora of photography basics. These will include classes such as Intro to Photography, Digital Photography, Studio Photography, Lighting, Color, History of Photography, Composition, Business (photography-related), Portfolio classes, 2-D and 3-D Design, Digital Printmaking, etc. You'll be able to get great feedback from you professors and classmates, so be sure to take advantage of your time in school!
Photography / Film Studies Schools (0)
...Please wait... more schools are loading...